Check out this best tourist spots in Davao City and what you can do as you tour around the lovely city of Davao.
Davao City, well-known for its slogan "Life is Here" has gained reputation as one of the safest and cleanest cities in the Philippines.
This beautiful city of the south of the Philippines has a total land area of 2,444 square kilometers. It is the largest city in the Philippines in terms of land area.
Davao City has a population of 1,907, 721 as of 2022.
Tourist Spots in Davao: What to do in Davao
Are you wondering what to do and what are the best tourist spots in Davao to explore?
Check out this comprehensive list of tourist attractions that you can include in your itinerary when you visit Davao City.
Free Tourist Spots in Davao
There are various attractions and tourist spots in the city of Davao. Let us start off with Davao City free tourist spots in this list.
People's Park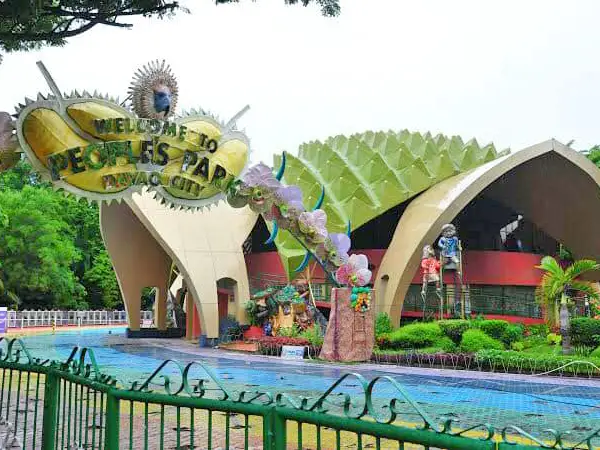 People's Park is one of the most lovely leisure parks in Davao City, Philippines. It is known for its beautiful durian-inspired building near the entrance.
This park has a lush vegetation, pocket gardens, and has a large collection of bamboos. These are strategically planted all over this 4-hectare public park.
This park has trees that provides shades to the park goers. It also has benches that provide seating for visitors to relax and unwind.
There are few native huts or kubo for you to use and relax as well.
What to do: If you have children, you can let them play at the children's playground.
You may just sit at the benches and enjoy seeing the doves that visit the place. You may also check out the pond and enjoy seeing those lovely fishes of different colors.
You can also just roam around and enjoy this lovely, colorful place.
Davao People's Park – Palma Gil Street, Davao City
Open daily from 5AM to 11AM | 1PM to 9PM
Davao Coastal Road
One of the best latest developments in Davao City is the construction of the Davao Coastal Road.
Thanks to former President Duterte's Build Build Build Program.
This coastal road project is a 17.352 stretch highway that starts at Bago in the South side of Davao.
It then traverses to Matina Aplaya, Roxas Avenue, Sta. Ana wharf up to R. Castillo Avenue in the north side of Davao.
This coastal road is not just an ordinary highway but it also serves as coastal shore protection from sea waves action, water surges and shore erosion.
The Bago junction has a parking space for visitors, an esplanade, and a park for the people to enjoy.
What to do: The coastal road is not yet open to public transportation as the whole project is not done yet. However, it is open to public and you can do walking, jogging, biking, exercising and skating in the Bago junction of the coastal road.
Moreover, you can just relax and enjoy the city views and feel the cool sea breeze at this coastal road.
Davao Coastal Road
Bago, Davao City
Magsaysay Park
This park is built in honor of the 7th president of the Philippines Ramon Magsaysay, hence the name. It has a life-size monument of President Ramon Magsaysay. It is one of the oldest parks in the beautiful City of Davao.
This park has trees and benches where you can relax and chitchat with friends. It also has a skating rink where you can enjoy and have fun with your family and friends.
Since this park is located along the seashore and fronting Samal Island, you can chillax here in the afternoon and enjoy the nice breeze from the ocean.
What to do: Aside from skating, you can do picnics and enjoy the sea view at this park.
You can also visit the Kadayawan Tribal Village at this park. Check out the different tribe's house designs and learn about the 11 tribes in Davao City.
Moreover, you can have your fill of durian and different fruits that are abundant in Davao City which you can just buy from the fruit stands located at the Magsaysay Park entrance.
Magsaysay Park
Ramon Magsaysay Avenue, Davao City
San Pedro Cathedral
San Pedro Cathedral is named after the patron saint of Davao Saint Peter or San Pedro. The original structures of San Pedro Cathedral was built by Spanish conquestador Don Jose Uyanguren in 1847.
The San Pedro Cathedral is an important historical landmark that witness the progress of Davao.
It is located along San Pedro Street, one of the oldest streets in Davao City.
What to Do: Say a prayer or even join a Holy mass in this cathedral. If you are not a Catholic, you can simply visit the nearby Osmeña Park and the Davao City Hall which is just across this church.
San Pedro Cathedral
San Pedro corner S.M. Recto Streets, Davao City
Shrine of the Holy Infant Jesus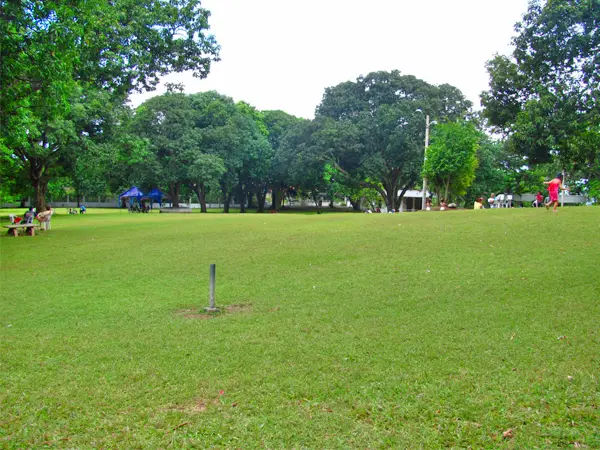 Shrine of the Holy Infant of Jesus of Prague or simply known by the people of Davao as Matina Sto. Niño Shrine is located along the Shrine Hills, Matina Davao City.
Many devotees go to this church to say a prayer. Moreover, many board exam takers pray to the Sto. Niño for the successful passing of their exam.
The wide field in this shrine is great for chit chatting and bonding. There are also seating areas for relaxing.
What to do: Join a holy mass as there are scheduled masses in this shrine. Say a prayer to the Holy Infant Jesus. There are many prayer areas in this shrine.
Buy some souvenir in the souvenir shops and food in the canteen.
Shrine of the Holy Infant of Jesus of Prague
Broadcast Avenue, Shrine Hills, Matina Davao City
Shopping in Davao
There are numerous shopping centers in Davao like several malls and markets.
However, for this list we are including the ones that you can find souvenirs and affordable deals.
Davao Chinatown
Unknown to many, Davao has the biggest Chinatown in the Philippines in terms of land area at 44 hectares. The place is the main residential and commercial area of Chinese-Filipino community in the City.
This place has lots of business establishments like restaurants, malls, banks and fruit stands.
This is also the place where a lot of business owners in neighboring places in Davao region source out their goods. Many of the stores here offer wholesale and retail prices of their products.
What to do: Eat out with family and friends at restaurants that offer Chinese cuisine like Davao Famous Restaurant and Shanghai Restaurant.
You can also buy a lot of things here at a lower price.
Davao Chinatown
Ramon Magsaysay Avenue and neighboring streets, Davao City
Poblacion Market Central
Poblacion Market is the newest place that houses souvenir shops, foods stalls, money changers, ready to wear goods and native products in Davao.
This place is where the former Aldevinco Shopping Center stores transfer as the area of Aldevinco will be transformed into a high-rise building.
What to do: You can shop for Davao souvenir items in this place. You may also dine out with family and friends.
Poblacion Market Central
C. Bangoy Street (former Madrazo Fruit Stand), Davao City
Roxas Night Market
Roxas Night Market is perfect place if you are craving for street foods. Different stalls sell different kinds of foods.
You can find here pork and chicken barbecue, fried and grilled innards, ice cream stalls, and even seafoods.
You can also find here used and surplus "ukay-ukay" goods.
What to do: Pick your favorite street foods or you may try out new ones.
You can also check out ukay-ukay goods that are affordable. Moreover, you can enjoy a good massage in this place.
Roxas Night Market
Roxas Avenue, Davao City
Overlooking Places in Davao
Davao City is a place with a mixed terrain of plains and mountains. With this, there are overlooking spots that you can visit in Davao City.
Eden Nature Park
Eden nature Park is a popular tourist destination in Davao. It is located at the highlands of Eden, Toril, Davao City.
It has a lovely balmy weather being situated in the mountains and elevated at approximately 3,000 feet above sea level.
There are a lot to explore and do in this 80-hectare mountain resort.
There are numerous amenities in this park. They have function rooms for seminars and events. They have also guesthouses, lodge, villa and cabin for guests who will stay overnight at the place.
What to do: Have a tour of the entire place and marvel the beauty of God's creation.
Eat out at the Vista Restaurant where sumptuous meals are being served.
You may try out recreational activities in the area like riding a skyrider, skycycle, skyswing, skywheel, horseback riding, and Indiana Jones.
You can also go swimming at the pool.
Another exciting activity you can do in the area is to go fishing. Experience fun and joy in catching fish and eat what you catch.
You can catch tilapia, dory and catfish at the fishing village. Then have the staff cook your catch the way you want it cooked-pinaputok, grilled, fried or paksiw for a minimal fee.
Other than that, you can enjoy various attractions at Eden Nature park like the amphitheater, bird walk, deer park, flower garden, hiking trail, Lola's garden, playground and hydroponics garden.
Moreover, they have also a butterfly garden, Tinubdan, a village that showcase Mindanaoan culture, and bamboo maze.
What to do: Have fun with the Indiana Jones at this park. Go swimming at the pool or you may go fishing and have it cooked for you.
You may try the various rides like sky wheel, sky swing and sky cycle.
Or simply roam around the area and appreciate the beauty of nature.
Eden Nature Park and Resort
Barangay Eden, Toril, Davao City
Day Tour contact number: (082) 286 0383 |Front Office contact number: (082) 286 0385
Business Hours: Monday to Sunday | 9AM – 5PM
Jacks Ridge Resort and Restaurant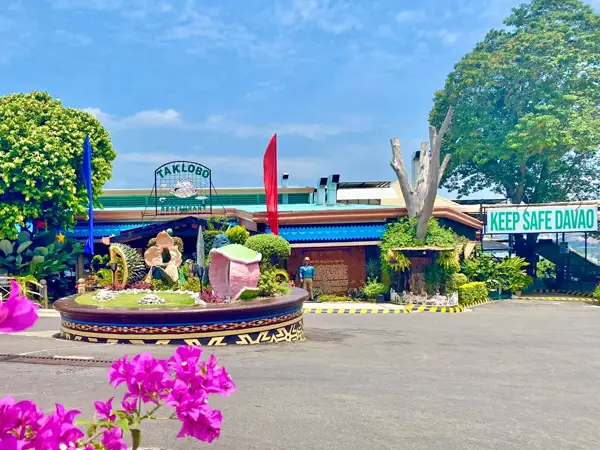 Jacks ridge is an overlooking restaurant and resort that is located at Matina Shrine Hills, Davao City. You can enjoy delicious Filipino foods at the restaurant or go swimming at the swimming pool.
This place is great because it is just near the city center and is easily accessible via commute or private vehicle.
What to do: Enjoy the lovely vista of the Davao City and the mountains as well as the ocean and Samal Island. Eat out at the restaurant while enjoying a band playing at Taklobo restaurant.
You may also go swimming if that is what you prefer.
Jacks Ridge
Shrine Hills, Matina, Davao City
Contact Number: (082) 297.8830
Museums
There are various museums that you can visit in Davao City. Check out some of them.
Davao Museum
Davao Museum showcased history and ethnography of Davao. You will learn the culture of the Indigenous people and lumads of Davao region.
This museum is located at Insular Village, Lanang, Davao City.
What to do: Learn the culture of the people of Davao especially the indigenous and different tribes in Davao.
Be amazed by the costumes and other instruments and things that were used in the olden times by these indigenous peoples.
Davao Museum of Culture and Ethnography
Insular Village, Lanang, Davao City
The Bone Collector Museum
The Bone collector museum is a great place to visit. You will find here display of bones of animals of different species from around the world.
Founded by Darell Blatchey, the museum has now approximately 700 specimens of bones.
The Bone Collector Museum
Family Circus Compound, Barangay 76-A Bucana Blvd (San Pedro Ext), Davao City
+63-919-624-0744
Farms and Resorts
There are a number of farms and resorts that are interesting and lovely to see. Do check them out.
Malagos Garden resort and Chocolate Museum
Malagos Garden Resort is known for its world-class chocolate. More than their chololate, this agro-ecotourism park has various amenities that you and your family and friends can enjoy.
They have a restaurant where you can enjoy fresh and delicious foods. You can hold events and celebrations at their place like birthdays, weddings and even pre-nuptial pictorials.
They have rooms available if you want staycation or you intend to stay overnight.
What to do: Eat out at the restaurant that serves sumptuous meals.
You may also try your hand at making chocolate at the chocolate museum. Or simply chill and relax and be one with nature.
Davao Crocodile Park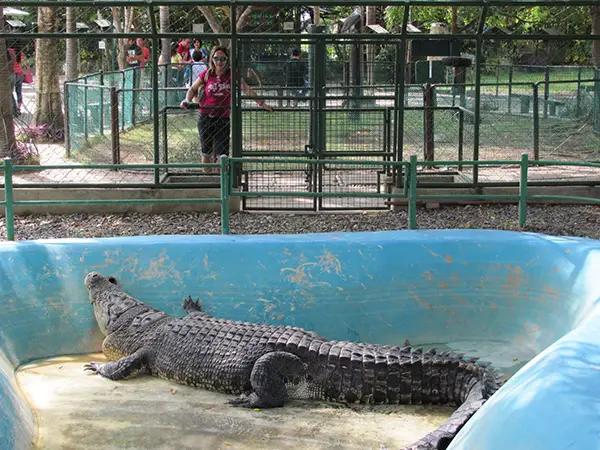 Davao Crocodile Park and Zoo is a resort where you can meet freshwater crocodiles of various sizes. Aside from crocodiles, you can also see tigers, snakes, ostrich, and other rare animals at their zoo.
What to do: You do crocodile feeding, ostrich and koi feeding. You can also watch their schedules show and be amazed with the different animals' performance.
Moreover, you may try to eat out at their restaurant and try some exotic foods like crocodile ice cream.
Philippine Eagle Center
Do you want to meet and greet the Philippines' National bird? You can find them here at Philippine Eagle Center in Davao City.
The place is an 8.4 hectare in size and is located at Malagos, Baguio District, Davao City. It is a breeding facility of the endangered Philippine Eagle and other birds.
What to do: Check out the Philippine Eagle that are being taken cared of at this place.
Enjoy the flowers and trees in the area and have a delightful tour at the place.
Philippine Eagle Center
Malagos, Baguio Disctrict, Davao City
Mt. Apo
Do you love adventure? Do you have the tenacity and adrenaline to conquer the highest mountain of the Philippines?
If yes, prepare yourself for an exciting yet precarious trek and climb to Mt. Apo.
There are various jump-off site to climb Mt. Apo. You can go via Kapatagan trail, Bansalan or Kidapawan.
What to do: Have an experience of your lifetime by trekking the trail and finally conquer Mt. Apo.
Experience how it is to sleep in tents atop the crater of the mountain.
Gap Farm
Gap Farm is a old resort and educational park where you can see the huge writing on its mountain "Land of Promise" referring to Mindanao.
It has swimming pool, statues of animals and tunnel.
What to do: Have a picnic at the wide area of this farm resort. You can also dine at their restaurant that serve delicious foods.
Gap Farm
Diversion Road, Maa, Davao City
Tamayong Prayer Mountain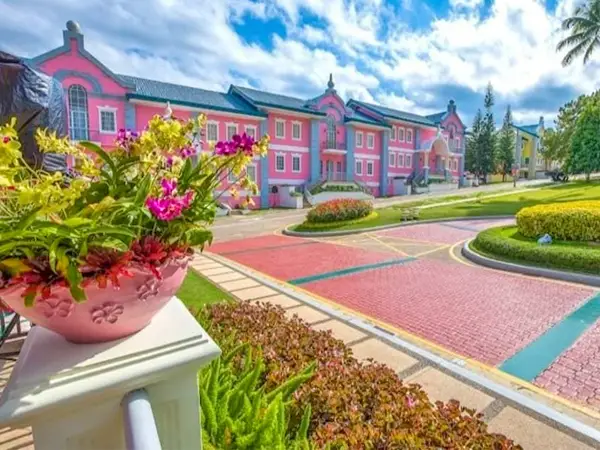 Do you want to go to a tranquil and lovely place that seems to be a paradise on earth? This place is for you.
The Tamayong Prayer Mountain also known as the Garden of Eden Restored is located at Tamayong, Calinan, Davao City.
The place has well manicured plants and pocket gardens, it is indeed a paradise you will experience.
This 8-hectare prayer mountain is owned by Pastor Apollo Quiboloy.
What to do: Take lots of picture in this place of paradise, relax and marvel God's creation. Meditate if need be.
Enjoy this chilly and lovely place.
Japanese tunnel
The Japanese Tunnel Family Resort and Restaurant is a resort perfect for family and friends. It has function rooms for events and it has rooms for overnight stays.
It has a swimming pool and a restaurant for you to dine.
The tunnel at this resort brings you back during the Japanese era. It was excavated by Filipino prisoners of war which was supervised by Japanese Imperial era in 1942-1944.
What to do: Explore the tunnel and be transported to the time of Japanese occupation in the Philippines.
Dine out at the restaurant and take a dip at the pool.
The Japanese Tunnel Family Resort and Restaurant
Tahimik Avenue, C.P. Garcia Highway, Davao City
Contact Number: 0905 265 1956
Other Tourist Spots that Might Interest You