There are many Bukidnon tourist spots that is worthy of your visit.
Bukidnon is a place blessed with vast lands with lovely mountains and valleys and awesome natural beauty.
It has large plains making it ideal for agricultural cultivation of plants like bananas, coffee and pineapple. Check out these Bukidnon tourist spots that will make you fell in love with the place.
Where is Bukidnon located
Bukidnon is a landlocked area characterized by magnificent plains as well as sloping and rolling hills, sharp cliffs and blessed with abundant natural wonders.
Bukidnon is bounded by Cagayan de oro City and Misamis Oriental in the north, Agusan del Sur in the East, Cotabato in the West and Davao City in the South.
How to Go to Bukidnon
If you are coming from Luzon, fly by plane to either Cagayan De Oro City or Davao City. Then you need to ride a bus going to Bukidnon.
Depending on your destination, you can ride public utility vehicles locally or hire a tricycle or single motor. If your destination is along the highway, then you can just disembark from the bus that you ride.
Bukidnon Tourist Spots
Bukidnon Province has a land area of approximately 10, 498 square kilometers. It is a wonderful place with lots of tourist spots and attractions.
Whether you want to celebrate special occasions with family, have outing with friends, adventure trips with barkadas or go food tripping, you got it.
There are numerous lovely resorts, mountains, caves and cafes and restaurant for you to enjoy and create memories with loved ones and friends.
Bukidnon Resorts
There are numerous resorts you can find in the province of Bukidnon. Tourists and locals alike love to visit these lovely resorts.
You have plenty of options depending on your preferred location and the amenities and leisure activities that you want to experience.
Take a look at these different resorts that are popular Bukidnon tourist spots for you and your family and friends to enjoy.
1. Bemwa Farm
Bemwa Farm is geographically located at Marilog, Davao City but it is so near Bukidnon area so we are including it in this list.
It is a farm where you can enjoy fresh and breezy air and marvel at the lovely rows and plots of lettuce, strawberry, carrots, sunflowers, herbs and others.
This farm sell their produce so prepare to bring fresh veggies when you visit the place.
They recently opened their freshwater fishing where you can catch tilapia and hito from their pond and they will grill it for you.
Bemwa Farm
Marilog, Davao City near Bukidnon
Contact #: 0932 243 5587
---
2. Buda Vista Garden Resort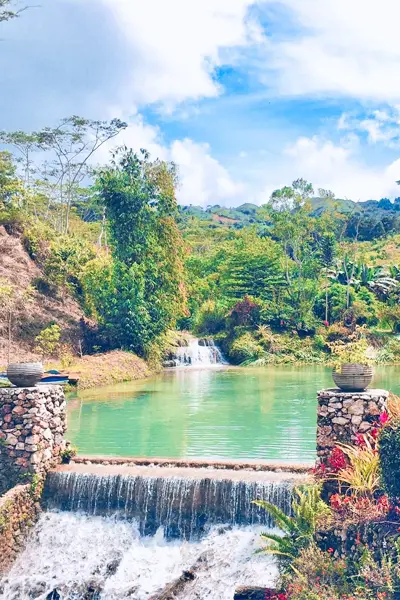 Buda vista Garden Resort offers a relaxing ambiance for you and your loved ones and friends. They have guest rooms for overnight stay.
They have a restaurant that serves delectable foods. Best of all, the place have instagrammable sceneries.
Buda Vista Garden Resort
Buda, Bukidnon
Contact #: 0923 682 1288
---
3. JMCC Peak
JMCC Peak is a great place for relaxing and bonding and creating memories with your special someone. They have a big house for large groups and A houses for couple or small group.
The place have restaurant and coffee shop for dining. They also have a viewing deck, a karaoke place and playground for the kiddies.
JMC Peak
Kitaotao, Bukidnon
Contact # 0927 685 6356
---
4. Dahilayan Adventure Park
Do you love adventure? If yes, then head to Dahilayan Adventure Park where you can put to test your adrenaline rush.
This adventure park boasts of 2 ziplines from a launch point of about 4,700 above sea level.
They also have a razorback, a mountain coaster that takes you onboard a coaster ride in a monorail winding ride in the mountains.
Experience the thrill of your life by riding the dropzone, a 120ft freefall over a manmade lake. This is an extreme pendulum swing that you can try at Dahilayan Adventure park.
The place has function halls for events and seminars. They also have a hotel and dorm rooms for overnight stays.
Dahilayan Adventure Park
Manolo Fortich, Bukidnon, Philippines
Contact # 0917 622 3204
---
5. Camp Philips
Experience the vast plantation of pineapple at Camp Philips by Del Monte at this lovely place.
Del Monte has a grocery store and souvenir shop in the area as well.
There is a vast park in the area with bench and tables where you can hang out under huge trees.
Camp Philips
Manolo Fortich, Bukidnon, Philippines
---
6. Nature's Overview, Bukidnon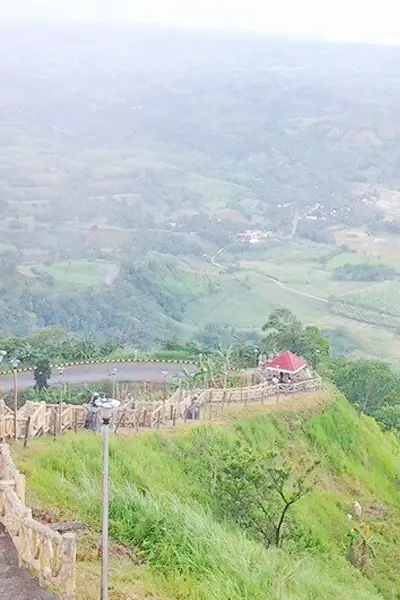 If you are travelling from Davao to Cagayan de oro or vice versa via Bukidnon, you will pass by this Overview Nature and Culture Park in Bukidnon.
If you climb up the top, you will be able to have a beautiful view of the winding roads in the mountains of Bukidnon.
---
7. Monastery of Transfiguration
The Monastery of Transfiguration or Transfiguration Abbey is owned by the Benedictine monks. It has this distinct, lovely architectural design.
If you relish calm and quiet, visit this place. You can also attend mass in this abbey as there are regular mass held in this place.
Spiritual retreats and recollections are held in this place. They have a spiritual center where they house their retreatants.
There is also a museum in the Transfiguration Abbey where priest vestments are being placed and displayed.
If you visit the area, you will enjoy vista of farm taken cared of by the monks. They grow coffee and they have animals in the area.
---
8. JBM Little paradise- 5,000 tulips
Nestled in the valley surrounded with mountains in Maramag, Bukidnon is the JBM Little Paradise.
Enjoy the 5,000 tulips in the area. It gives you a lovely view of the mountains that surround the area. They have a canteen that serves yummy foods.
JBM Little Paradise
Maramag, Bukidnon
Entrance fee: 50 | Korean Outfit: 100
---
9. Greek Hills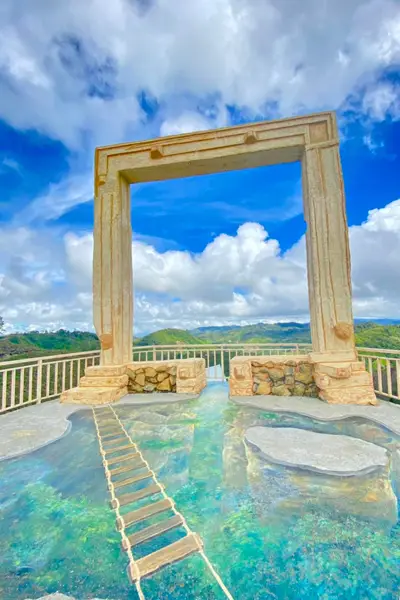 Greece-inspired mountain resort, you will definitely feel you are being transported to the lovely Southeastern country in Europe.
It has rooms named after Greek gods and goddesses for guests staying overnight.
Are you attracted with those white houses in Mykonos, Greece? Have that feel in Greek Hills resort. The vast lovely mountains around the area is an added bonus.
Greek Hills
Sitio Pulang Lupa, Sinuda, Kitaotao, Bukidnon
Enrance fee: 100 | 200 (consumable)
---
10. RR Family Spring Resort
Beat the heat of summer and have fun with your loved ones at RR Family Spring Resort.
This lovely resort has a swimming pool and play area for kids. They also have function rooms and guest rooms for overnight stay.
It has lovely lined up trees where you can just relax. It has also cottages for you and your family to hang out while enjoying this lovely resort.
RR Family Spring Resort
Maramag, Bukidnon
Contact # 0926-838-2376/0912-8300-333
---
11. Nasuli Spring Resort
Want to soak yourself in a cold, natural spring water? Head over to Nasuli Cold Spring Resort located in Bangcud, Malaybalay, Bukidnon.
This resort is one of the lovely and natural beauties of Bukidnon. You can do picnic and swimming in this resort. You can also do diving as there is a platform where you can jump off and dive to its lovely waters.
Surrounding the area are large trees and forest that makes the place cool.
The place has a convenience store where you can buy some necessities. There is no food corkage so you can just bring your own foods.
This natural pool has a depth of 4 to 31 feet. For safety purposes, you can rent a vest from the area.
Oh, don't forget to treat your self to a fish spa.
Nasuli Spring Resort
Bangcud, Malaybalay, Bukidnon
Entrance fee: 50
Cottage price range: 300-700
Floating vest: 50 for kids | 100 for adults
Contact # 0917-709-9141
---
12. Kaamulan Nature Park
One of the lovely places to visit in Malaybalay, Bukidnon is their nature park, Kaamulan Grounds.
It is a very relaxing place as it is surrounded with verdant greens and trees.
You can do various things at this place. There is a playground where kids can play. They have mini zoo for you to get acquainted with various animals.
You can also do hiking in the area or do picnic at their well-maintained grounds.
The place is super relaxing and perfect for distressing and simply getting a breather from your busy day-to-day life.
Kaamulan Nature Park
Malaybalay, Bukidnon
---
Bukidnon Falls
Are you up for more adventure? Then you can visit Bukidnon falls and water formations that are loved by fun-loving adventurers. These falls and water formations are Bukidnon Tourist Spots that locals and out-of-town visitors love.
13. Mindamora Falls / Limunsudan Falls
Dubbed as the second highest waterfall in the Philippines, Mindamora falls is simply amazing.
A stunning falls that is about 870 feet high. It is a 2-tier falls cascading in a lush cliff.
This falls has different names. For the locals of Bukidnon, they call it Mindamora /Bayug Falls. As for the people of Iligan, they call it Limunsudan Falls. Do not be confused as they refer to the same falls.
Mindamora Falls
Barangay Lantud, Talakag, Bukidnon
---
14. Bluewater Cave
Bluewater cave is a new attraction in Bukidnon. You will find blue clear water on this cave, hence the name.
Going to the cave requires you to make a 25-minute trek from the highway. You will have to pass by mountains and trees along the way.
The water in this caves goes out to a river nearby. You can swim in the lovely waters of this cave.
Bluewater Cave
San Jose, Quezon, Bukidnon
---
15. Center of Ecological Development and Recreation (CEDAR)
CEDAR stands for Center for Ecological Development and Recreation. It is a project of DENR in partnership with LGU or Local Government Unit.
The project focuses on the protection of 1,703 hectare land where natural forests, springs, rivers, and cascades inhabit.
Have an unforgettable adventure by trekking not just one but 3 lovely waterfalls at CEDAR Bukidnon. Gantungan falls is the first you will encounter from the entrance then Natigbasan Falls and Dila Falls.
Have fun and make exciting memories at CEDAR, Bukidnon. Aside from wandering and wondering the majestic falls in the area, you can do a lot of other activities.
You can do camping, swimming, trekking, rappeling and canyoneering at CEDAR.
CEDAR
Impalutao, Impasug-ong, Bukidnon
Impasug-ong Tourism Office Contact # +639066184802
---
16. Lake Apo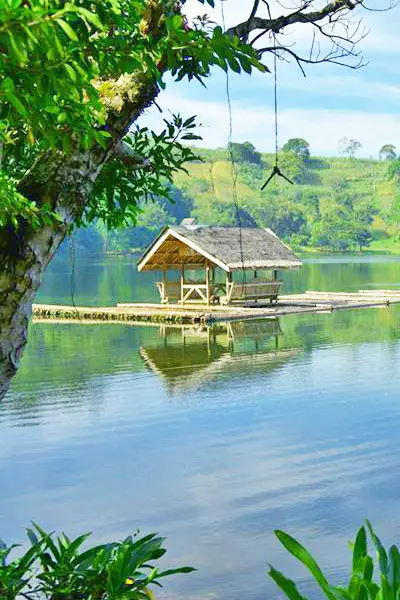 This place is a total gem!
Lake Apo is a lovely place to rejuvenate and have fun with friends and family. It is a crater lake, located in a hilly area, surrounded by mountains and lush greeneries.
The lake has a surface area of 24 hectares and a max depth of 26 meters.
It has raft cottages for guests and visitors to enjoy. Have fun in this natural lake that nature gives.
Lake Apo
Guinuyoran, Valencia City, Bukidnon
---
17. Carmel Waters Bukidnon
Carmel Waters is a wonderful place located in Linabo, Malaybalay City, Bukidnon. It has swimming pool and well-manicured pocket gardens.
You can bring tent, do camping and have a bonfire at the place. If you do not bring a tent with you, you can just rent from the place.
You can also bring foods as their canteen only serve drinks and snacks.
They have hobbit houses where guests can stay overnight.
Carmel Waters
Linabo, Malaybalay City, Bukidnon
Contact #: 09974604812
---
18. Cliffside at Impasug-ong
Do you like glamping and camping? Experience it at this lovely place in Impasug-ong, Bukidnon called Cliffside.
Witness the sea of clouds in the morning and have a wonderful view of the mountains and flowers around the area.
You can stay overnight by their teepee tents that looks like A-frames made from native materials.
Amenities in the area include camping accommodations and mini fitters gym. Leisure activities you can enjoy at Cliffside is horseback riding, billiards, ping-pong and darts.
They also have a resto where you can order foods for your meals.
Cliffside Camping and Glamping Site
Impasug-ong, Bukidnon
---
19. Talakag Bonseta's Fun Fun Ride
Bring your kids and family to Bonseta's Fun Fun rides and they will surely enjoy the place.
It has a huge play area for kids and have sculptors of popular cartoons and characters that they can enjoy.
It has well-manicured pocket gardens and lovely landscaping.
They also have native huts and camping areas for you to hang out. The place has a restaurant called Bonseta's Tavern Restaurant that serves delicious foods.
Enjoy the vista of the mountains atop their viewing decks. You can view the scenic Mt. Kitanglad range from the area and experience cold weather that go down as much as 13 degrees .
They have a pool that is purely coming from the spring water. The good thing is you can bring your own food with no corkage even if they have a restaurant.
Bonseta's Fun Fun Rides
Talakag, Bukidnon
Entrance: 50
---
Mountains
Bukidnon is a landlocked province. It is rich in natural resources and becoming a popular ecotourism destination in Mindanao. Bukidnon province is a home to 3 of the 10 tallest peak in the Philippines making it a great place for adventure to mountaineering enthusiasts.
These mountains are popular Bukidnon tourist spots aside from resorts and nature parks.
20. Mt. Dulang Dulang
Mt. Dulang Dulang is the 2nd highest peak in the Philippines. It boasts of its lovely woodlands and stunning mossy forests.
The stunning beautiful mountain of Dulang Dulang is in the Mt. Kitanglad mountain range and stands 2,941 meters above sea level. This mountain is a favorite destination for mountain adventurers.
Mt. Dulang Dulang
Asean Heritage Park, Bukidnon
---
21. Mt. Kitanglad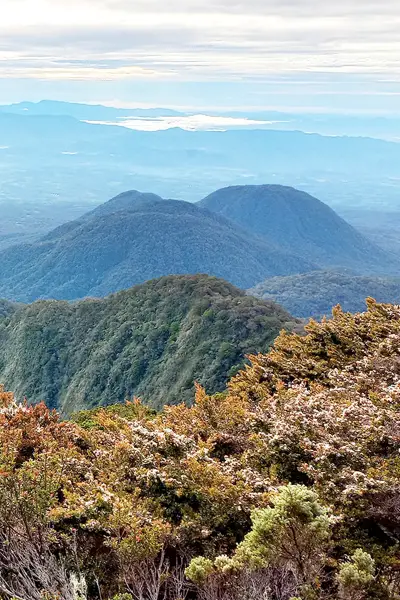 Located in the same mountain range as Mt. Dulang Dulang is Mt. Kitanglad. It is the 4th highest peak in the Philippines and is an inactive volcano.
The Mt. Kitanglad range is one of the few remaining rainforests in the Philippines. It is rich with flora and fauna including the Philippine national bird, the Philippine eagle.
This mountain range is a protected area and coming to the place needs permission and pre-climb requirements from the protedted Area management Office of Mt. Kitanglad Natural Park, ASEAN Heritage Park.
Mt. Kitanglad Range is a sacred place for the tribes living in the area, therefore there are rules that need to be followed if you want to go to the place.
Here is a copy of the rules for the New normal if you want to climb Mt. Kitanglad range, taken from Mt. Kitanglad Range Natural Park Fb Page.
---
22. Musuan Peak / Mt. Musuan
Musuan Peak is also known as Mt. Calayo that literally means Fire Mountain.
The Musuan Peak is an active volcano and located in between the boundary of Valencia City and Maramag, Bukidnon Province.
You can hike up to the mountain and enjoy the lovely scenery in its vicinity and surrounding places.
Musuan Peak
Maramag, Bukidnon
---
23. Lawis Grand Canyon
Lawis Grand Canyon is one of the many popular tourist spots in Manolo Fortich, Bukidnon Province.
Experience the amazing and magnificent views of one of the incredible ridges in the Philippines.
It has lovely, scenic views, full of verdant greens.
The Grand Canyon
Lunocan, Manolo Fortich, Bukinon
---
24. Sumalsag Cave
Sumalsag Cave is for the brave and real adventurer at heart. It is located in Palaopao range in the municipalities of Sumilao and Manolo Fortich, Bukidnon Province.
This cave is small yet kind of challenging to get into. You will have to trek 30 minutes going uphill to reach this cave.
Are you up for the challenge? It is all worth it as you will get to experience this lovely cave.
Sumalsag Cave
Sumilao-Manolo Fortich, Bukidnon
---
Bukidnon Cafes and Restaurants
No outing is complete without food trips. Food is life as the cliché goes.
Bukidnon has a lot to offer when it comes to food destinations. Check out these foodie Bukidnon tourist spots.
25. El Paso
El Paso is an al fresco dining in Bukidnon. You will get to enjoy the lovely ambiance at the place, the lovely trees with well-maintained grass.
It has a countryside feel and you will get to enjoy the lovely environs surrounding the place.
El Paso
Lantapan, Bukidnon
---
26. Chukoohills Cafe and Resto
Have a relaxing dining experience at Chukoohills Cafe and Resto. You will get to enjoy the beautiful place with a view of the mountains and lush greens in this place aside from dining of course.
Food is delicious and the place is cool and chilly being situated in the mountains of Bukidnon.
Chukoohills Cafe & Resto
Lantapan, Bukidnon
---
27. The Baff (Binahon Agroforestry and Farm)
BAFF is a farm resort with restaurant and one of the lovely tourist spots in Bukidnon. It is located at the foot of Mt. Dulang Dulang.
This place offers food, accommodation, camping and other leisure activities.
Moreover, they also give out trainings on different farming systems.
They have conference halls and meetings rooms for large groups. The Baff offer weekend buffets for their guests to enjoy.
Baff
Sitio Bul-ogan, Brgy Songco, Lantapan, Bukidnon
Entrance fee: 100 (consumable for food and drinks)
---
28. Cafe sa Bukid
Cafe sa Bukid, as the name suggest is a restocafe located in the beautiful place of Lantapan, Bukidnon.
They offer a great selection of foods such as pasta dishes, salads and other Filipino favorites.
Cafe sa Bukid
Lantapan, Bukidnon
---
29. Ayahay
Are you a coffee lover? If yes, then head over to Ayahay resto. They offer not just coffee but meals as well.
This place has a good ambiance and great weather being balmy and chilly. They offer yummy salads, fresh smoothies and of course coffee.
Ayahay
Tabu-an, Lantapan, Bukidnon
---
30. Lantaw 360 Camp & Cafe
Lantaw 360 Camp and Cafe is a scenic place, being situated near the Mt. Kitanglad range. It is a very peaceful and relaxing place. They have native huts for their guests who intend to stay at their place.
Lantaw 360 Camp and Cafe
Talakag, Bukidnon
---
Bukidnon is indeed so blessed, just as the rest of the Philippines. You got a lot of options in terms of tourist spots and attractions to visit, may it be resort, mountains and even food trips.
Have you been to these Bukidnon tourist spots listed above?
Or are we missing some place that deserves to be in this list? Let us know via the comments.
Other Tourist Spots that Might Interest you
Kapatagan, Digos Tourist Attractions