Davao Kadayawan Festival is a celebration of abundant harvest, life and cultural diversity that is celebrated annually in Davao City, Philippines.
There are plenty of activities and events sponsored by the city government as well as private entities to celebrate this one of the popular festivals in the Philippines.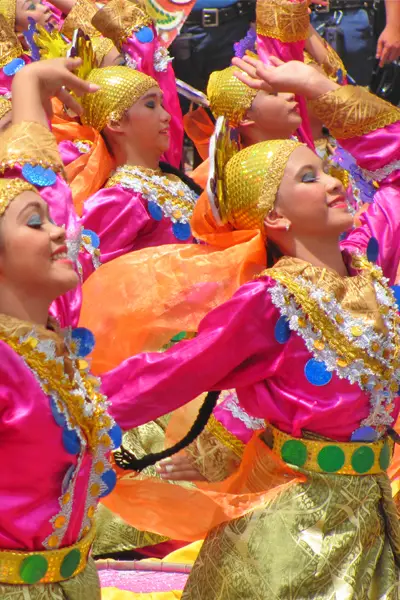 Kadayawan Festival Origin and History
Kadayawan Festival originated from the thanksgiving tradition among the indigenous communities called Pahinongod.
In this tradition, baskets of fruits, trays of lovely and colorful native orchid flowers, vegetables, rice and corn grains, various farm tools were displayed on mats as thanksgiving for the bountiful harvest.
Over time, this practice evolved and flourished into an annual thanksgiving, now the Kadayawan Festival.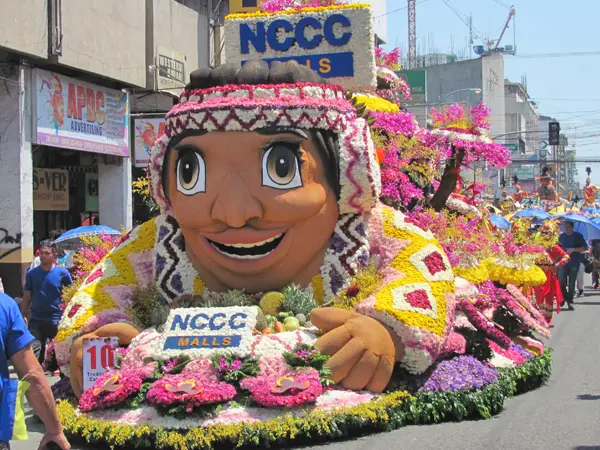 Kadayawan is a word that is derived from the greeting "madayaw" , a Mandaya term which means good, valuable, superior.
Fun Fact: Kadayawan is one of the few festivals in the Philippines that is non-religious
When is Kadayawan Festival Celebrated
Kadayawan is a weeklong celebration. It is celebrated on the third week of August. It is culminated with the street dancing and floral parade.
However, as of late, many events and activities are held in the whole month of August in connection with the Kadayawan Fest.
What is the Main Event of Kadayawan
Street dancing and floral float parade which culminates the festivities serve as the highlight and main event of the festival.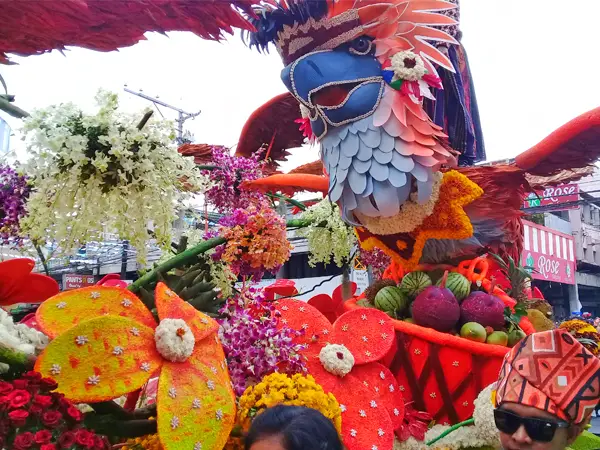 Things to Do During Kadayawan Festival
Check out this list of things that you can do to celebrate this festival.
Witness the Street Dancing or Indak-Indak sa Kadalanan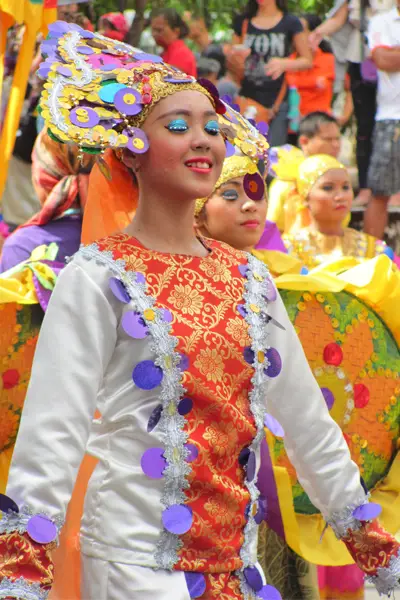 Street dancing or indak-indak is a showcase of choreographed dance.
It is based on folklore, traditions and cultural practices and traditions presented and interpreted in a dance.
It is usually accompanied with musical instruments like drums, gongs and other musical implements that adds vibrancy and fanfare to the whole performance.
Moreover, costumes of the performers are usually colorful and conveys a festive and fun vibe that will delight visitors and spectators.
This is a competition and city government gives out generous prizes to the lucky winners.
Have fun Watching the Floral Float Parade or Pamulak sa Dabaw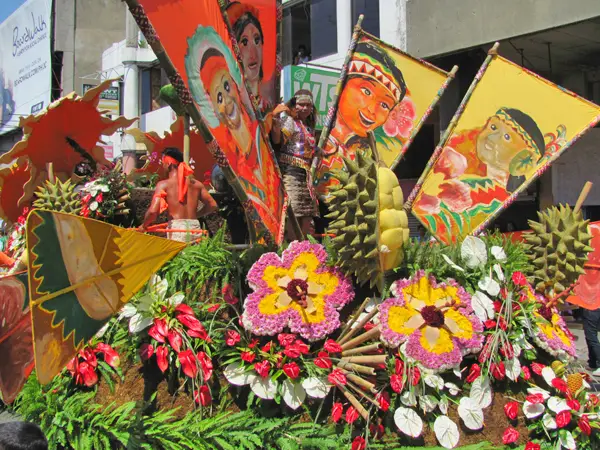 Pamulak sa Kadayawan or floral float parade is another highlight and anticipated event of the Kadayawan festivities.
Many visitors and spectators are looking forward to witnessing this colorful event.
This is the celebration of abundance in Davao. Floats are decorated with fresh and colorful flowers, vegetables and various kinds of fruits depicting abundant harvest in Davao.
It showcased the plentiful flora and fauna that are endemic in Davao City.
There are categories for the floral float – small, medium and large categories. Private sectors usually participate in this event.
The lovely colors and decorations of the floral floats show the creativity of the float designers to the delight of the spectators.
Visit the Agri-Trade Fair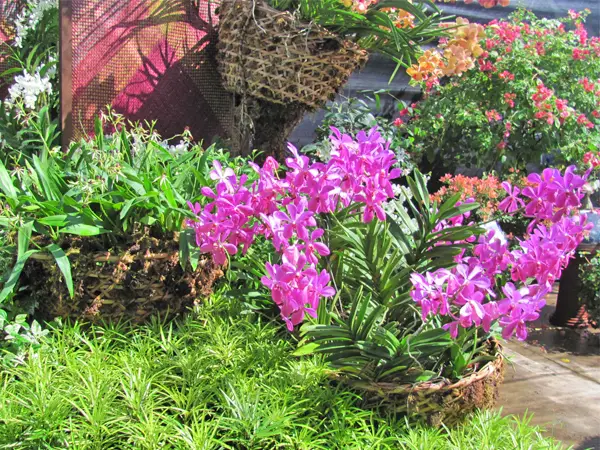 Are you a plantita or do you love plants? If you are, do not miss out to visit the agri-trade fair.
This is usually held at the back of SM Ecoland Davao, although venue may change sometimes.
You get to see a lot of displays of plants of various kinds. Flowers, shrubs, fruit seedlings. Name it, they have it.
You can also see displays of lovely pieces of furniture as well as fruit displays that you can binge on.
Moreover, you can also see a showcase of landscape areas, bonsai plants and dish garden designs.
Binge on the Abundant, different kinds of fruits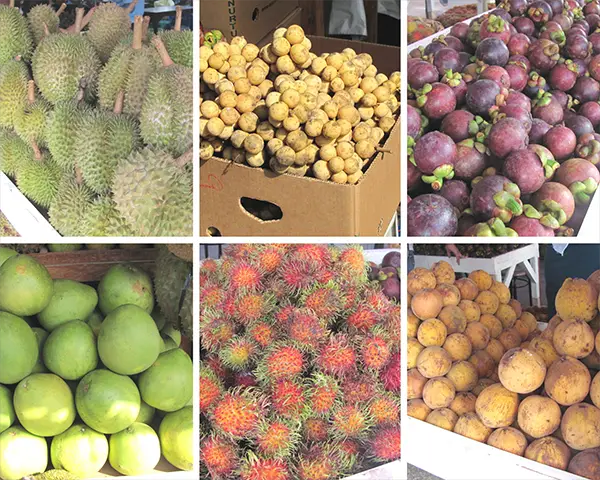 August is the peak season of abundant harvest of fruits in Davao. So when supply are plenty, prices go down.
Take advantage by binge-eating delicious fruits that are plenty in Davao. You can choose your favorite – durian, rambutan, lanzones, mangosteen, pomelo among others.
Participate and Witness Other Events and Activities
There are plenty of events and activities that are being organized during Kadayawan Season.
Many of these events are held in malls so you may checkout mall event schedules posted on their respective FB pages.
Visit other attractions in Davao City
If you still have the time, do not miss to visit tourist attractions in Davao City.
Say hello to Pangil, other crocs and other animals at Davao Crocodile Park.
You may visit nearby resorts in Samal Island or do a day-tour Samal Island Hopping .
Don't forget to Shop for Souvenirs
Shop for mementos and souvenirs at the Poblacion Market where souvenir shops of former Aldevinco Shopping Center is now located.
You may also do your shopping in different malls of Davao.
What to Bring
Camera, Phone and Powerbank – To document what you see and where you go as you join the fun activities of Kadayawan.
Personal Sanitizing Alcohol and Face Mask – We are now in the new normal and basic health protocol in Davao requires you to wear a face mask.
Sanitize with alcohol every now and then for prevention and safety purposes.
Some Money/Cash in Philippine Peso – You need money every now and then like if you are hungry or you need to buy from ambulant vendors. You have money to use.
Personal Drinking Water and Food for Snacking – Walking and watching Kadayawan events on streets can make you thirsty and hungry.
Vaccination Card and ID – In case these are asked on some events. Just to be sure.
Maintenance Medicine if any – If you have maintenance medicine, bring them with you.
Top Tips
Mind the View and where to Position Yourself. The parade often starts at the intersection of Claveria and Roxas Streets near Marco Polo Davao and Ateneo de Davao University.
It passes the whole of Claveria Street (C.M. Recto) going to San Pedro Street ending at the front of the City hall where performances for street dancing is being held.
Look for a spot where you have a full unobstructed view of the parade.
Wear comfortable attire and shoes. You will be at the streets under scorching heat of the sun so wear an attire that is comfortable.
You will also do a lot of walking as many roads are closed to give way of the parade so its is best to wear sneakers and comfortable footwear.
Look after your personal things and valuables. Davao is generally safe but it is best to be proactive as you will be walking in crowded streets.
Be mindful of your valuables and personal belongings.
Book your Hotel in Advance. If you are not from Davao City and intend to stay in a hotel, book your stay in advance.
It is also best to choose hotels that are just a walking distance or within the vicinity of the downtown area.
You will save energy and time from walking and also money as you do not have to shell out money for fare to be able to go back to where you stay.
Where to Stay
There are numerous hotels that you can stay near or within the downtown area.
Choose the one that fits your budget and preference.
Where to Eat
There are plenty of restaurants in Davao City and within the city center.
You can also choose different cuisine of your choice.
Have you been to Kadayawan Festival? Share your experience via the comments if you have.
Tourist Spots That Might Interest You