This list of Davao Oriental tourist spots will give you an idea on what to do and where to go if you are planning to visit the lovely place of Davao Oriental.
Davao oriental is blessed with lovely white beaches and nature enclaves. You can do and explore so many things in this province. You can experience one of the most lovely and powdery sand beaches in this place.
Whether you want your eyes to feast on lovely sights to see. Enjoy and soak yourself in the turquoise blue waters in the beach. Experience adrenaline rush on different adventures. Be satisfied with your gastronomic cravings. We got you covered.
On we go to the list.
Sightseeing
1. Welcome Park Davao Oriental
You will be greeted by the Welcome Park as soon as you enter the area of Davao Oriental. This is located at Pintagan, Banay-Banay, Davao oriental.
It is the gateway to the picturesque and beautiful Davao Oriental Province. It is not just simple park. You can explore the place where you can walk in the 14 stations of the cross.
Bring yourself atop to the Holy Cross by climbing the 645 small steps. If you want a place to enjoy and meditate, this is a perfect place.
2. Sleeping Dinosaur
Driving towards the lovely Davao Oriental province will give you so many things to see along the way. One of these is this Sleeping dinosaur.
It is a group of interconnected small island mountains that has a shape that resembles a sleeping dinosaur, thus the name. It is located at Barangay Dawan, Mati, Davao Oriental.
So, if you are heading towards Mati, Davao oriental, pullover and enjoy the breathtaking view of the sleeping dinosaur. You can just view it at the viewing deck along the highway going to Mati.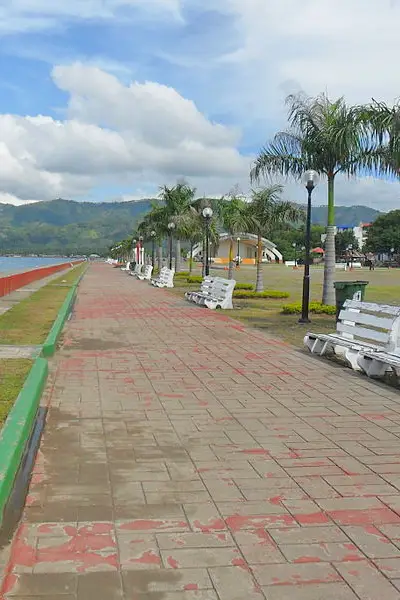 3. Mati Park/Baywalk
If you are in Mati Davao Oriental, do not forget to take a stroll and have a fresh sea breeze air by just going to the park and bay walk.
It is a lovely place where you can see the mountains and just within the city center.
4. Subangan Davao Oriental Provincial Museum
Have glimpse of the historical heritage of the Province of Davao Oriental. It showcased the abundance and rich culture in this side of the Philippines.
Subangon is a Visayan term which means "east or sunrise".
A 53 feet skeleton of perm whale will greet you upon entering the museum. It is clean and well-maintained and very modern museum.
5. Centennial Tree
This centennial tree is called Dao and it is located at Barangay Magdug, Governor Generoso, Davao oriental.
It is 260 feet tall and said to be 300-old tree. It has a wide and massive trunk that is amazing.
6. Cape San Agustin Lighthouse
The 3 lighthouses at Cape San Agustin are locally called as "Tatlong Maria" and also known as parola. The first lighthouse with a spiral staircase was built in 1938.
It is located at Barangay Lavigan, Governor Generoso, Davao Oriental. Cape Agustin is in the southernmost part of Governor Generoso.
If you want to go to Cape San Agustin coming from Davao City, it will be a 5-hour drive passing by the City of Tagum then Mati City and finally to Governor Generoso.
Resorts
7. Dahican Beach Resort
Dahican Beach resort is known for its pristine blue waters with a powdery sand. It has a long stretch of white sand beach with coconut trees lined along it.
It is a popular destination for water sports such surfing , skim boarding, scuba diving as it has impressive big waves that can carry surfing activities.
It has a very relaxing vibe and not as commercialized as other beaches in Davao area.
8. Blue Bless Resort
Blue Bless is one of the famous beach resorts in Mati City. It is located at Barangay Pitugo, Barangay Bobon, Mati City, Davao Oriental.
Blue Bless beach resort has a number of rooms to accommodate their guests. You can visit at the resort for overnight stay.
9. Lanca Beach Resort
Lanca Beach Resort prides itself as the beach for the masses because of their affordable prices.
The place, just like other beaches in Mati is blessed with clear blue waters, white sand and lovely blue sky on a lovely day.
It is located at Barangay Lanca, Mati City, Davao Oriental.
10. Jakka Beach Resort
Do you want to relax and be with nature? Head out to this lovely resort. Jakka Beach resort is a tropical paradise with lovely lined coconut trees along the lovely white sand beach.
It is located at Tagabebe boundary Pundaguitan, Governor Generoso, Davao Oriental.
11. Liana David's Campsite
This resort is a haven for camping by the beach. Enjoy the crashing waves towards the shore. The cool sea breeze that touches your skin.
This camping resort will make you experience to be one with nature.
Liana David's Campsite is located at barangay Lanca, Mati City, Davao Oriental.
12. Yolly's Beach Resort
Yolly's Beach Resort is a lovely resort with white sand and clear water with a lovely tropical feel. They have various rooms for day tour and overnight stays.
They also have tables and bench spread across the beach front for their guests to use while having fun under the sun at the beach.
Yolly's Beach resort is located at Barangay lanca, Sitio Cotcot, Mati, Davao Oriental.
13. Rustic Lounge Resort – Dinagsaan Puntalinao Banay Banay Davao Oriental
Rustic Lounge Resort is a beautiful resort with lined cottages along the beach.
It has well-manicured plants that make the place more lovely.
Rustic Lounge resort is located at Banay-Banay, Davao Oriental.
14. Guang-Guang Mangrove Park and Nursery also known as Guang-Guang Marine and Reserach Center.
Guang-guang Mangrove Park is a preserved and protected area spanning 21,000 hectares of mangrove forest that is an important habitat to marine life like fishes and turtles in the area.
It is located at Sitio Guang-guang in Barangay Dahican, Mati city, Davao Oriental.
Foodie Trips
15. Seaside Empanada
I know that you are used to eating empanada. But seaside empanada has delicious flavors that word of mouth spread out making it so popular among locals and tourists alike.
No trip to Mati is complete without passing by and having a grab of this favorite empanada.
Seaside empanada is located at Quezon St., Mati City, Davao Oriental.
16. La-Ne's Kan-anan
Kan-anan is a Visayan term for dining place. La-ne's kan-anan is famous for their delicious Filipino fares. From barbecue, gambas and other delicacies, you will surely love their foods.
This restaurant also offers combo meals and toppings. Don't forget to try their leche flan. It is simply delicious.
They are located along Bonifacio Street, Mati City, Davao Oriental.
Adventures
17. Mount Hamiguitan Range Wildlife Sanctuary
Visit Mount Hamiguitan Range wildlife Sanctuary If you want a more outdoorsy adventure. It is a home to globally endangered and endemic flora and fauna.
It is declared national park and sanctuary in 2003. Mount Hamiguitan covers 6,834 hectares in land area.
It is located at San Isidro, Governor Generoso and the City of Mati.
18. Aliwagwag Falls Cateel
This falls is considered to be the highest in the Philippines. It has a stair-case like boulders and the water spreads to the mountain sides.
It is an 84-tier falls and reaches 1,110 feet. You can take a dip at the base of the water falls which can be seen just along the highway.
This falls is located at Barangay Aliwagwag, Cateel, Davao Oriental.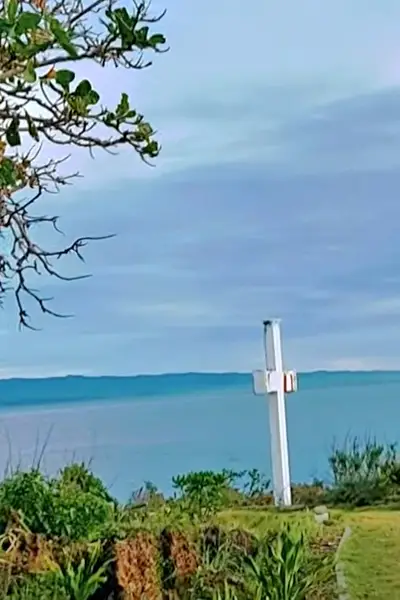 19. Pusan Point Caraga
Pusan Point is the easternmost part of the Philippines. The Philippine sunrise first come out at this place.
Foreigners and locals gather at Pusan Point in the year 2000 to witness a glimpse of the first sunrise in the new millennium.
Pusan Point is located at Santiago, Caraga, Davao Oriental.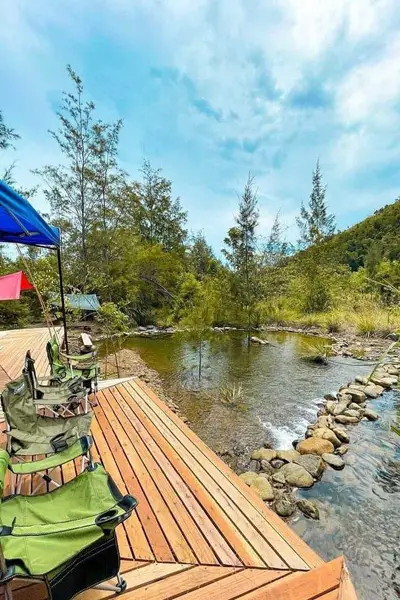 20. Darrporrt
Darrport is a campsite perfect for witnessing the sunrise. It is known for its diverse reef and ridge natural wonders and majestic river.
It serves as the jump off base for other adventures in the area.
Darrporrt is located at Sitio Catmonan Road, Mati, Davao Oriental.
21. Mindanao Saga Flying Club
Want to fly in the sky? Experience affordable, safe, memorable, light flying with Mindanao Saga Flying Club. This flying club facility is one of the two in the Philippines. The other one is in Pampanga.
They currently have 13 ultra light planes in the club. Six of which are open designs while the other seven have close designs called Lightsports.
Have a glimpse over the rich and beautiful place of Davao Oriental up in the sky riding an ultra light plane.
22. Lake Carolina
Lake Carolina is one of the must-visit places in Baganga, Davao Oriental. While white pristine beaches are more famous in the area, Carolina Lake is worth your visit.
Its unassuming beauty, devoid of developments other than some cottages adds to its charm. It is a popular picnic area among locals.
Lake Carolina is located at Panghugan, Barangay Salingcomot, Baganga, Davao Oriental.
23. Poo Kinablangan Sandbar
This sandbar is a total gem.
Frolic in the lovely white sandbar with crystal-clear waters surrounded with mountains with verdant greens.
This sandbar reminds me of the lovely White Island sandbar in Camiguin Island. Although there's no pint of comparison as they are both beautiful and unique on its own.
Kinablangan Sandbar is located at Poo, Kinablangan, Baganga, Davao Oriental.
24. Curtain Falls
Explore Curtain falls, a hidden gem in the Baganga, Davao Oriental.
It is located in the hinterland of Barangay Campawan, Banganga, Davao Oriental. You will have to walk along slippery and damp rock and earth and going the place is not the easiest but it is well worth it.
25, Maglahus Hanging Bridge
This is a steel hanging bridge located at Cateel-Compostela Road, Davao Oriental.
Passing by the bridge gives you a vista of beautiful lush greens around the wide river.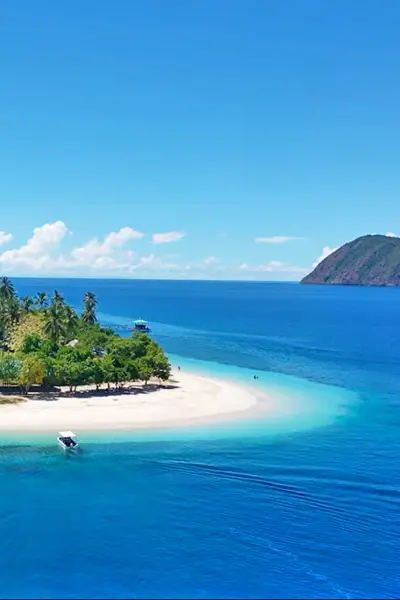 26. Pujada Island
Pujada Island is nestled about 230 kilometers from Mati City. It is an unspoiled island covered with lush greeneries and sprawling white sand beaches.
It is a 156-hectare island facing Pujada Bay and on the other side, Pacific Ocean.
27. Sunrise Boulevard, Baganga
It is the best site for sunrise, hence the name. This place is perfect for a relaxing walk.
Dead mangroves along the boulevard reminds of the ravage made by Typhoon Pablo.
Sunrise Boulevard is located at Barangay Dapnan, Baganga, Davao Oriental.
How many of these tourist spots have you been? Do you have some more spots you want added on this list? Let us know via the comments.
Other Spots you may want to Visit
Garden by the Bay Resort and Restaurant
Kapatagan, Digos Tourist Attractions