This is a list of best beaches in the Philippines.
The Philippines is a tropical island in the Southeast Asia. Being an island nation, it is blessed with lots of lovely beaches scattered all over its archipelago, from north to south.
You have a lot of options and you can opt for the more luxurious and pricey ones to the most humble, yet beautiful and unspoiled gems in the Philippines.
1. Nacpan Beach, El Nido, Palawan
Nacpan beach is one of the most beautiful beaches in El Nido, Palawan, Philippiines.
It has white powdery sand and turquoise blue waters where you can enjoy swimming. It has lined coconut trees and some restaurants you can dine in.
It is not that crowded and run with much development yet so you will enjoy its natural beauty.
2. Waling-Waling Beach, Coron, Palawan
Waling-waling Beach is an island paradise. It has clear, pristine waters and a sandbar to yourself.
Visit the place and you will have so many spots to take your photos for your unforgettable travel.
3. Boracay
Boracay is undoubtedly one of the most beautiful and popular beaches in the Philippines.
It has white powdery sand and clear blue waters. It has also lots of amenities in the area and lots of actions too.
You can do beach volleyball, swimming and island hopping.
4. Panglao, Bohol
Panglao, Bohol has lovely beaches that offer pristine waters to dip yourself into. It has also a lovely white sand and gentle waves that is ideal for swimming.
Visit the place and don't forget to drop by other must visit tourist spots in the area.
5. Siargao
Siargao is world renowned for its lovely beaches with lined up coconut trees that enchant a lot if not all visitors.
The place is great for water sports like surfing, paddle boarding, sunset cruise and island hopping.
Dubbed as the surfing capital of the Philippines, the place is popular for both expert and beginners.
6. Pearl Farm Resort, Samal Island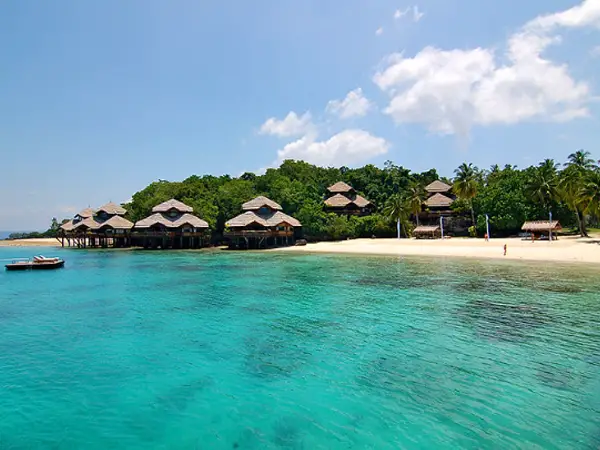 Pearl Farm Beach Resort is located in Kaputian, Samal Island. It is lovely beach resort with native huts and stilt houses and on the luxurious side of your budget.
It has lovely, fine white sand and clean, clear waters that is great for swimming.
Take note however, that no walk-ins are allowed on this beach. You have to book in advance if you want to go to Pearl Farm Beach Resort.
7. Dahican Beach, Mati Davao Oriental
Dahican Beach Resort in Mati, Davao Oriental is popular for a reason. It has white sand and turquoise waters. The huge stretch of its lovely shore is lined with coconut trees.
This beach has huge waves as it is fronting the pacific, making it ideal for some water sports.
8. Jakka Beach, Governor Generoso Davao Oriental
If you go beyond Mati area and reach Governor Generoso which is still part of Davao Oriental, you will reach Jakka Beach Resort.
It is a place blessed with fine white sand and lovely water that will enable you to enjoy the place.
The place is ideal for relaxation, outing with family and friends and even dating as a couple.
9. White Island, Camiguin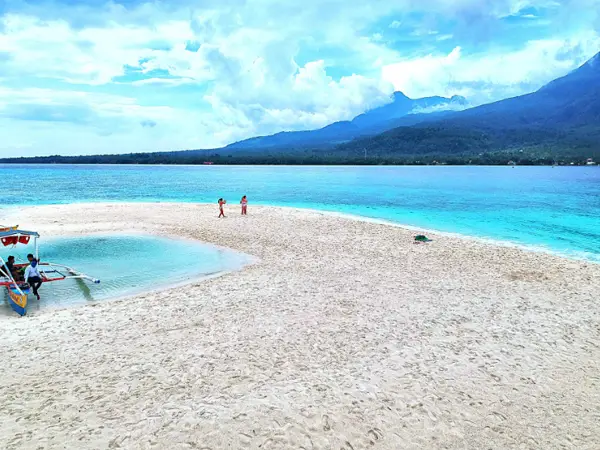 White Island in Camiguin is one of the many sandbars that the Philippine archipelago is blessed with. The view of the mountains especially that of Mt. Hibok-Hibok in the backdrop is just awesome.
It is uninhabited as it submerged in water during high tide. The best time to visit the place is very early in the morning, around 5am when it is still low tide, and the place is not yet so crowded so you will really get to enjoy the sandbar.
10. Bantayan Island, Cebu
Bantayan Island in Cebu has one of the most beautiful beaches the Philippines can offer. It is located in the Western side of Northern Cebu, Philippines.
If you want peace and tranquility on an island, do visit the place.
11.Saud Beach, Pagudpud, Ilocos Norte
Saud Beach is located in Pagudpud, Ilocos Norte. It has a lovely stretch of white sand and calm and gentle waves, perfect for family and group outings.
Its beauty is comparable to that of Boracay but without the crowd and it is less commercialized.
12. White Sand beach, La Union
Looking for a lovely beach to chill and relax from your hectic schedule? Visit La Union, one of the provinces in the Philippines blessed with lovely beach attractions.
There are various beaches in the area and the White Beach is one of those. If you want the touristy area, then head over to the northern side, where the action is, so to speak.
13. Batangas
Do you want to enjoy peace and quiet in an uncrowded, secluded lovely beach? If yes, head over to Talim Beach Camp in Batangas.
Some activities you can enjoy at the place are swimming, fishing, snorkeling and island hopping.
The place offers a raw and rustic feel, making it different from other touristy areas in Batangas.
14. Kalanggaman Island, Leyte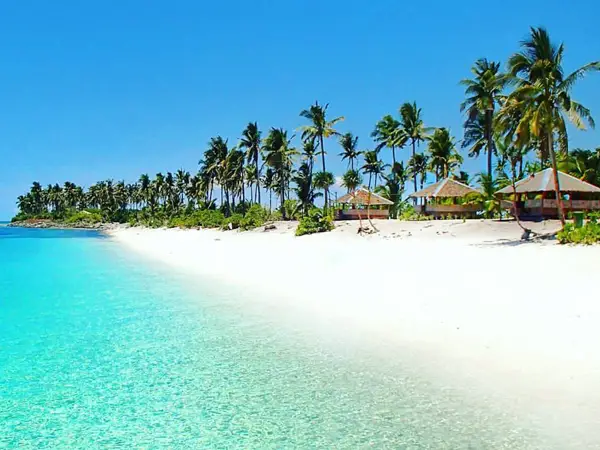 Kalanggaman Island is a beautiful sandbar located in Palompon, Leyte, Philippines. The place is known for its crystal-clear water and powdery white sand.
It is suited for day tour for family and friends outing.
15. Cagwait Beach Surigao del Sur
This lovely stretch of white sand beach is located at Cagwait, Surigao del Sur. The place has a lovely fine white sand with scenic view of nature surrounding it.
This clean, unspoiled gem is a perfect getaway for family and friends.
16. Pink Beach in Zaboanga
Known as the Pink beach, this 4-kilometer stretch of lovely pink-sand beach is located in Santa Cruz Island, Zamboanga City.
Strolling along the lovely sand is enchanting and awesome. Great place for relaxation as it is a peaceful place, away from the crowd.
17. Morong Beach, Batanes
Morong Beach in Batanes is one of the most picturesque places in Sabtang Island. It has beautiful white powdery sand and green sloping mountain on the side.
The iconic familiar arc adds charm to its beauty, making it a favorite spot for tourists and visitors.
18. Bihing Tahik Resort, Bongao, Tawi-Tawi
Bihing Tahik Resort is located in Bongao, Tawi-Tawi. It has white lovely sand and clear blue waters.
The place has accommodations for staying guests. A perfect getaway for family and friends.
19. Olanivan Island, Sarangani
Olanivan Island is located at Sarangani, Davao Occidental, just an hour away from Balut Island.
It is a remote Island in the Southern part of the Philippines, but it has lovely white sand and amazing natural beauty.
20. Gumasa Beach, Sarangani Province
Just one hour away from General Santos City, going South, you will reach Gumasa Beach in Glan, Sarangani.
It has a long stretch of beautiful fine sand with clear, clean waters. The place is not crowded so you will appreciate and enjoy its beauty more.
21. Little Boracay, Sta. Maria, Davao Occidental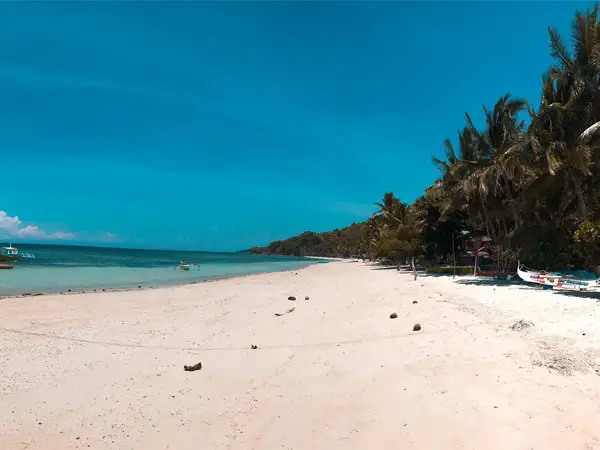 You will find the beautiful Little Boracay Beach in the coastal town of Sta. Maria in the newly carved out province of Davao Occidental which used to be part of Davao del Sur.
It is a great tropical paradise with lovely sand and pristine waters and coconut palms to serve as shade to beach goers.
22. Caramoan Camarines Sur
Caramoan is famous for a reason. It is a place blessed with abundant flora and fauna and lovely beaches.
A real tropical paradise, there are a lot to explore in this superb tropical haven.
23. Babu Santa Samal
Babusanta is located in Talikud Island, Samal. The place boasts of white sand with clear blue waters that is so inviting to the visitors.
A lot of visitors are enticed to go to this beach because it is not as crowded compared to the other areas in Samal Island.
24. Siquijor Island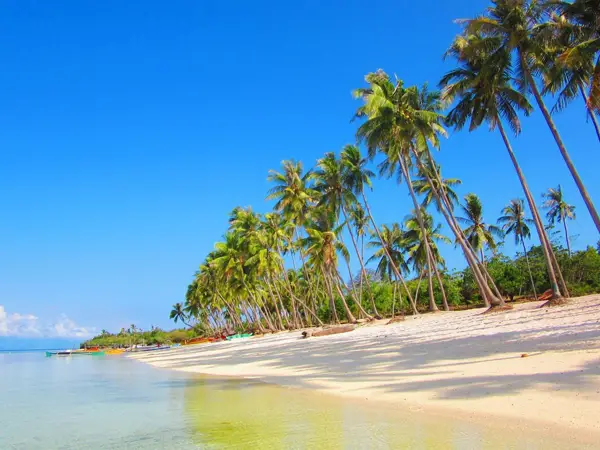 The Island of Siquijor is blessed with stunning natural wonders – lovely beaches with lined up coconut palms.
The place is popular to tourists for its powdery sand and lovely beaches. It is great place to relax and bond with family and friends.
25. Cabo de Roca, Zambales
Zambales, located in the northern part of the Philippines never disappoint. One of the stand-out beaches in the area is called Cabo de Roca.
It has a lovely stretch of white fine sand beach and lovely mountains in its surroundings. A perfect place to rejuvenate yourself from the hustle and bustle of city life.
26. Aurora
Aurora Province is located in the Eastern part of Central Luzon. It is blessed with beach with wide, beautiful shores that will make you enjoy the place.
It has numerous lovely beach resorts and one of those is the White Beach. Go, pay a visit to the place if you come in town.
27. Bihiya Beach, Oriental Mindoro
Oriental Mindoro is a tropical paradise indeed. Bihiya Beach in Oriental Mindoro offers a perfect getaway for family and friends.
It is a place that is not run with commercialism and development so you will really get to enjoy its rustic vibes.
28.Gigantes Islands, Philippines
Gigantes Islands are a group of remote islands which is part of the town of Carles, Iloilo, Philippines.
Although going to the islands can be a bit challenging, it is so worth it. It boasts of lovely cliffs, caves and lots of beautiful islands that are so beautiful to enjoy.
29. Sicogon Island, Iloilo
Off the coast of Northern Iloilo is a hidden gem, the Sicogon Island.
It is a natural, tropical paradise that seasoned travelers, nature lovers and adventure seekers adore.
30.White Beach, Moalboal
White Beach in Moalboal is one of the popular tourist destinations in the area. It is just near the town center and the place has a lot to offer.
From delectable foods, lovely views and welcoming locals, you will really be thrilled when visiting the place.
---
Best Beaches in the Philippines Summary
1.Nacpan, El Nido, Palawan
2. Waling-Waling Beach, Coron, Palawan
3. Boracay
4. Panglao, Bohol
5. Siargao
6. Peach Farm Resort, Samal Island
7. Dahican, Mati Davao Oriental
8. Jakka Beach, Governor Generoso
9. White Island, Camiguin
10. Bantayan Island, Cebu
11. Saud Beach, Pagudpud
12. White Beach, La Union
13. Batangas
14. Kalanggaman Islan, Leyte
15. Cagwait Beach Surigao del Sur
16. Pink Beach in Zaboanga
17. Morong Beach, Batanes
18. Bihing Tahik REsort, Bingao, Tawi-Tawi
19. Balut Island
20. Gumasa Beach, Sarangani Province
21. Little Boracay, Sta. Maria, Davao Occidental
22. Caramoan, Camarines Sur
23. Babu Santa Samal
24. Siquijor Island
25. Cabo de Roca, Zambales
26. Aurora
27. Bihiya Beach, Oriental Mindoro
28.Gigantes Islands, Philippines
29. Sicogon Island, Iloilo
30. White Beach, Moalboal