Philippine Festivals are a common celebration in any city or town. These festivals or fiesta as some locals would call it are mostly religious-related or themed except for a few that are not.
Here is a list of the Festivals in the Philippines that you may visit and enjoy.
1. Sinulog – Cebu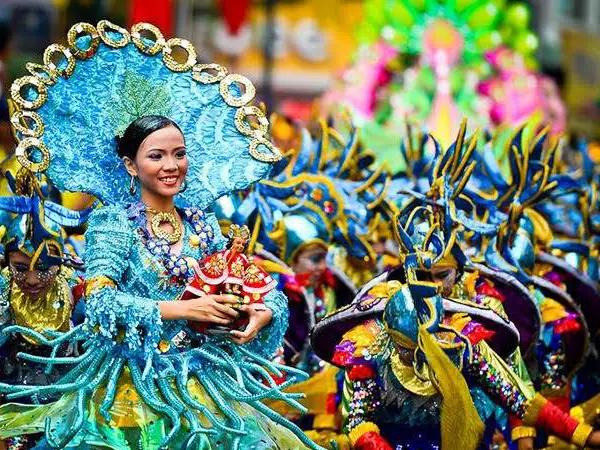 Sinulog Festival is the most popular festival in Cebu that is celebrated in honor of the Holy child or Santo Niño de Cebu.
It is a ritual characterized by dancing with colorful costumes while holding a replica of the Sto. Nino and feasting.
Sinulog comes from the Visayan word "sulog", which relates to the water current-like movement of the dance being performed in celebration of the baby Jesus.
The graceful Sinulog dance is a two-step forward and one-step backward to the beat of the trumpet and drums.
Sinulog festival is celebrated in Cebu annually, every third Sunday of January.
2. Ati-Atihan – Aklan
Ati-atihan Festival is an annual Festival in honor of Sto. Niño in a number of towns in the province of Aklan, Panay Island and it culminates in the province capital of Kalibo, Aklan in the third Sunday of January.
Not just an ordinary festival, Ati-atihan is also a celebration of peace treaty of two warring clans back in the day.
Considered to be the 'Mother of all Philippine Festivals", visitors who gather on the island can expect fun in this tropical paradise.
They can join in the 3 days and nights of intense partying, drinking and music leading towards its end marked by a torch procession towards the Kalibo Cathedral.
3. Masskara – Bacolod
Masskara Festival is an annual festival that is celebrated in Bacolod every fourth Sunday of October.
This festival is in celebration of the tenacity and resilience of the people in Bacolod.
Masskara started when prices of sugar plunged, the people's main source of income .
Around the same time, MV Don Juan ferry sank when it collided with an oil tanker.
Ironically, this tragic incidents gave birth to the masskara festival which "hides" the sadness and pain on the faces of the people in Bacolod.
4. Panagbenga – Baguio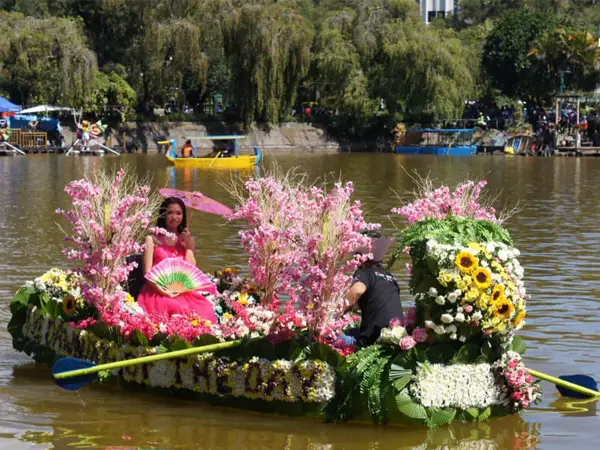 Panangbenga or the Baguio Flower Festival is a celebration of blossoming flowers, culture and its people.
Panagbenga is a Kankanaey term that translates to "blossoming flowers".
This colorful festival is celebrated in the whole month of February. Visitors can witness lots of activities and colorful displays of flowers, bazaars, street dancing and a lot more.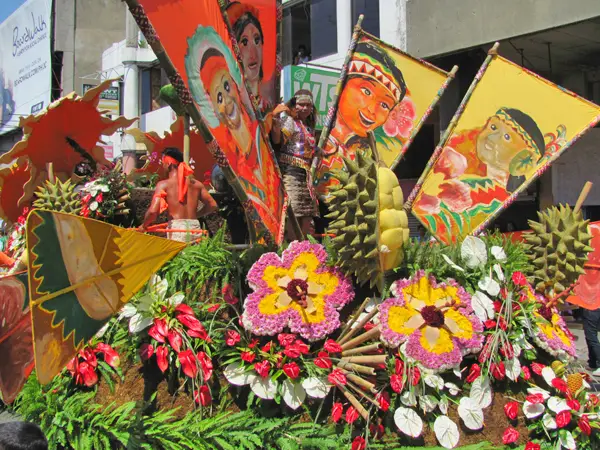 Kadayawan Festival is celebrated every third week of August in Davao city, Philippines.
It is a celebration of bountiful harvest in Davao highlighted with street dancing and floral float parade.
Check out this Kadayawan Festival guide for more information.
6. Kaamulan Festival – Bukidnon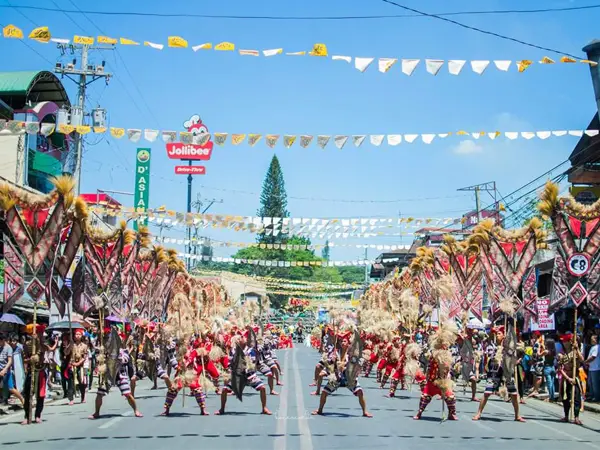 An ethinic festival that celebrates the seven tribes of Bukidnon, Kaamulan Festival is such a grand and colorful celebration in Malaybalay, Bukidnon.
Kaamulan comes from Binukid term "amul" which means to gather. Hence, this festival is the gathering of tribes in the lovely place of Bukidnon.
This festival is celebrated annually starting from Mid-February to Mid-March.
This festival includes a colorful street dancing and floral float parade. A concert of traditional songs and dances is also held aside from tribal traditional sports fest.
You will also witness exhibits, rodeos and trade fair that last for one month.
7. Ibalong Festival – Legazpi City, Albay
Ibalong festival is a celebration in honor of the socio-historic and cultural heritage of the people in Bicol.
It is based on the Ibalong epic and it is common to see the main characters of this epic during the parade namely, Baltog, Handyong, and Bantong.
This annual festival is celebrated every year from 2nd week to the rest of August.
8. Giant Lantern Festival – San Fernando, Pampanga
Giant Lantern Festival is a cultural fest celebrated in San Fernando, Pampanga.
It is celebrated every December , on a Saturday that precedes the Christmas eve.
Locally called Ligligan Parul, this festival highlights the creativity of the people in San Fernando wherein they create huge, beautifully-made Christmas lanterns with colorful lights that illuminate in the night.
This is the reason the city of San Fernando, Pampanga is dubbed as "The Christmas Capital in the Philippines".
9. Pintados Festival – Tacloban
Pintados Festival in Tacloban is a religious-cultural fest that depicts the pre-Spanish history of the people in Leyte from folk religions, epics and wars.
You will be treated to a colorful celebration with dancing and people with "pinta" or tattoos that resemble a warrior of the olden times.
This festival is held every 29th of June yearly.
10. Sandugo Festival – Tagbilaran, Bohol
Sandugo Festival is an annual fest held to commemorate the blood compact which is a treaty of friendship between the local chieftain Datu Sikatuna and the Spanish conquistador Miguel Lopez de Legazpi in Tagbilaran City, Bohol Island.
This festival is celebrated every July annually.
Sandugo Festival is highlighted with a street parade followed by a dancing competition and the re-enactment of the blood compact.
11. Dinagyang Festival – Iloilo City
Dinagyang Festival in Iloilo is an annual celebration in honor of The Sto. Niño or Holy Child Jesus.
It is celebrated every fourth Sunday of January each year.
Visitors will be treated to a colorful dance competition and loud drumbeats that adds vibrancy to this fest.
12. Pahiyas – Lucban
Pahiyas Festival in Lucban Quezon is a celebration of bountiful blessings and harvest in honor of San Isidro Labrador.
Pahiyas means thankful offering and this festival is celebrated every May 15 every year.
This festival is highlighted with street dancing and decorating of houses with colorful native produce and kiping, a dried leaf-shape rice paste.
13. Lechon Festival – Batangas
Lechon Festival is a religious and cultural fest in Balayan, Batangas celebrated every June 24th of the year.
This is in honor of St. John the Baptist or locally known as San Juan.
This vibrant and colorful festivity have plenty of activities like Holy Mass, street dancing, feasting and is highlighted with a lechon parade and water dousing.
14. Tuna Festival – General Santos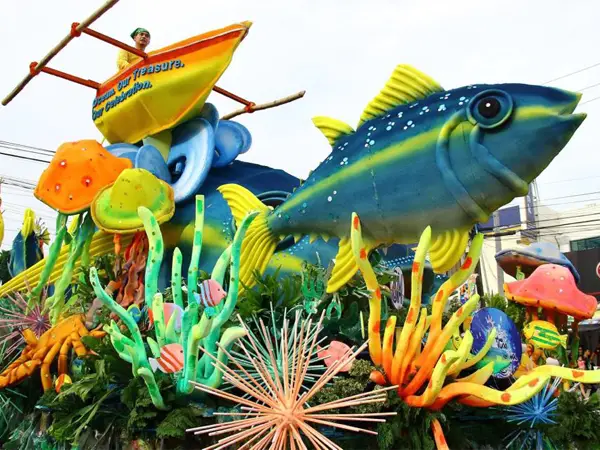 Tuna or blue marlin fish is the main product of General Santos City that is why Gensan is dubbed as the Tuna Capital of the Philippines.
For this reason, the Annual Tuna Festival is being celebrated in this vibrant city in the Southern Philippines.
Tuna festival is celebrated every first week of September. Some activities of this festival are water based like motorized banca race, jet ski challenge, and dragon boat race.
Moreover, Tuna Festival is highlighted with a luxurious and colorful street parade and dancing.
15. Higantes Festival – Angono, Rizal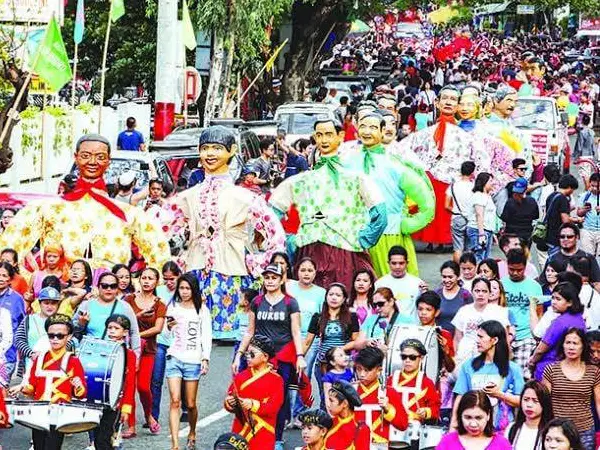 Higantes Festival is celebrated annualy in Angono, Rizal in honor of their patron saint, St. Clemente.
This is a secular festival that is celebrated on a Sunday before the town fiesta on November 23.
Giant paper mache puppet are created and paraded to make the festivities more colorful and livelier.
16. Mango Festival – Zambales
Zambales is known for its sweet, juice mango carabao locally known as dinamulag.
This is the reason that Mango Festival is celebrated in April every year in Zambales.
Locals and foreign visitors flock to this place to taste and savor their delicious mango and other agricultural products.
This festival's main events are the mango eating challenge and trade fair. It is highlighted with a mango-themed parade, dancing and float competition.
17. Bangus Festival – Dagupan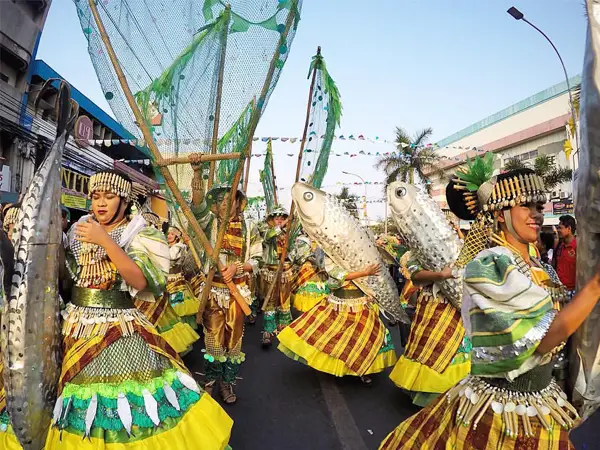 Bangus Festival is celebrated in Dagupan from April 18 to April 30 and this is a yearly celebration.
Dagupan is well-known for bangus or milkfish industry so their streets will be filled with over a thousand grills for this delectable fish, bangus.
This vibrant festivities have lots of events such as live bands and river cruise.
Other activities include Bangus Rodeo, a search for the heaviest, largest, bangus and the fastest bangus deboner and eater.
The highlight of the festival is the street dancing and parade including cooking of the dectable bangus called bangusine (bangus cuisine).
18. Moriones Festival – Marinduque
Moriones Festival is celebrated in Marinduque, Philippines. The morion head mask is essential to this festival.
It is designed to resemble Caucasian features more specifically that of Roman legionary's galea.
This annual festival is celebrated during the Holy Week of the Lenten season.
19. T'nalak Festival – South Cotabato
T'nalak Festival is celebrated in South Cotabato every second week of July and it is an annual event.
It is celebrated to commemorate the province's founding anniversary.
This festival is named after its cultural emblem, the t'nalak which is a traditional masterpiece of geometric patterns made by T'boli weavers made from abaca fibers.
Many activities are organized in celebration of the festivities like concerts and beauty contest, sporting events, nipa hut competition, trade expo and exhibits, street performances and parade to name a few.
20. Bulawan Festival or Festival of Gold – Davao de Oro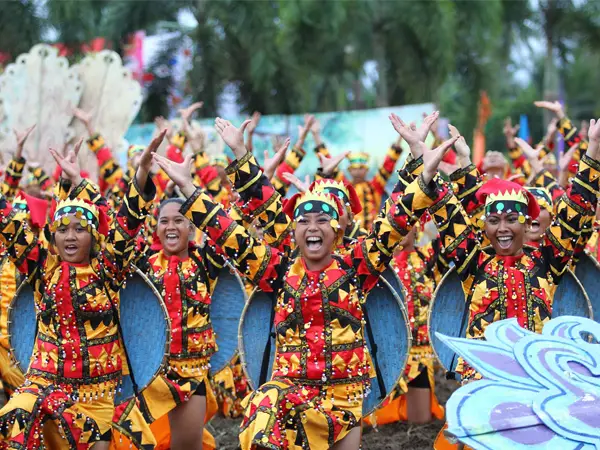 Wondering why Davao de Oro celebrates gold festival? You guessed it right.
Davao de Oro is rich in gold deposits and it is one of the contributing factors to the province' fast progress and development.
This festival is a celebration of history and thanksgiving.
Bulawan Festival is held annually every March 8 at the Capitol grounds of Davao de Oro.
21. Lanzones Festival – Camiguin
The Island of Camiguin is known for its delicious and sweet lanzones. In honor of their good harvest, the island celebrates the Lanzones Festival every third week of October.
Lanzones Festival activities include live bands, sports events and beauty pageant to name a few.
Moreover, the highlight of the festival is the street dancing where you will witness colorful costumes and participants strutting and dancing showcasing the lanzones, the very reason of the festivities.
---
Philippine Festivals Summary
Sinulog in Cebu
Ati-atihan in Aklan
Masskara – Bacolod
Panagbenga – baguio
Kadayawan – Davao
Kaamulan – Bukidnon
Ibalong Festival – Legazpi City
Giant Lantern Festival – San Fernando, Pampanga
Pintados Festival – Tacloban, Leyte
Sandugo Festival – Tagbilaran, Bohol
Dinagyang Festival – Iloilo City
Pahiyas – Lucban, Quezon
Lechon Festival – Batangas
Tuna Festival – General Santos
Higantes Festival – angono, Rizal
Mango Festival – Zambales
Bangus Festival – Dagupan
Moriones Festival – Marinduque
T'nalak Festival – South Cotabato
Bulawan Festival – Davao de Oro
Lanzones Festival – Camiguin