Samal Island Hopping is one of the best ways to enjoy and explore Samal Island which is just a close proximity to Davao City, Philippines.
Samal Island, officially known as Island Garden City of Samal (IGACOS) is geographically part of Davao del Norte. It is situated in Davao Gulf and so close to Davao City.
This island paradise is known for its lovely, clear waters. It has also abundant coral reefs and marine life.
There are numerous beach resorts on the island. From the most affordable ones, mid-range, to the luxurious ones, you can experience them all on the island.
Joiners VS Group Tours
Generally, there are two types of day tour island hopping in Samal Island – joiners tour and group tour.
Joiners tour are for those solo, couple, family, friends and you will be joining with other tourists as well.
On the other hand, group tours are usually for large groups like company tours, family tours wherein the number of attendees is enough for the capacity of the boat that ranges from 30-70 seaters and they charter the whole boat.
Samal Island Hopping Best Budget
For joiners tour, fee is often Php1,000 and it includes the boat, tour guide and lunch. This is the Samal Island hopping with lunch buffet. You need to book it in advance.
For the group tour, fee usually depends on the number of people who will join the island hopping and the food that will be served while on tour.
There are several Samal Island tour packages being offered. It is best to contact them directly so that you would know what are being covered on the fees on your particular tour.
Most tours includes lunch and the usual food consist of grilled fish, seafoods, fruits and lechon or roasted pig.
If you have special meal requirement like you don't eat pork, better inform in advance and contact the tour operator so that they can attend to your special meal requirement.
For this particular island hopping that we are joining, it is a group tour and it includes breakfast, lunch and afternoon snacks.
Samal Island Hopping Itinerary
When we had our island hopping, this is our itinerary.
We jumped off at Sta. Ana Wharf in Davao City. This wharf is located just beside Magsaysay Park.
If you are bringing car with you, Sta. Ana Wharf provides parking space for a fee of only 20 pesos.
From Sta. Ana wharf, our boat headed right away to Talicud Island for our first stop.
1st stop – Coral Garden
Coral Garden is perfect for diving and snorkeling. You will be treated to a beautiful, bountiful marine life if you snorkel into the seabed in this area.
That is the reason this spot is called Coral Garden. However, I personally have not taken a picture of the coral garden because my camera would not do justice to its beauty.
2nd stop – Dayang Beach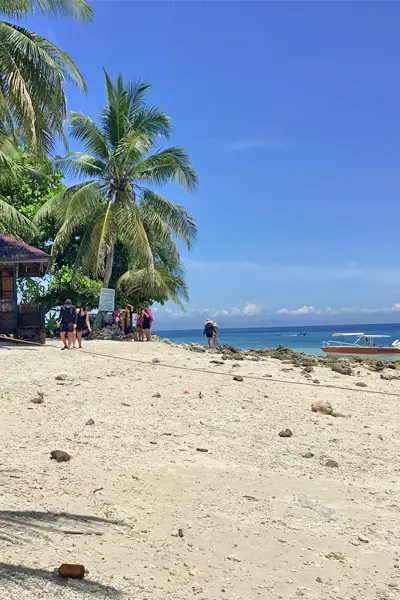 Dayang Beach is a lovely resort in Talicud Island. Island Hopping tours usually stop at this resort.
It has a large sandy area where group can do activities like games if they are having it part of their program.
You can also do swimming in this area as it has clear, clean waters that it is perfect for you to soak yourself on their beach.
3rd stop – Angel's Cove
Angel's Cove is another snorkeling spot in Samal Island.
You will get to see lovely and colorful fishes and the rich marine life in this area.
4th stop – Sabang Cliff Dive
If you are the adventurous type and you know how to swim, then take a dive at Sabang Cliff.
There are 3 spots where you can dive from the cliff. The first level is approximately 14 feet, the second level is 21 feet and the highest around 40 feet.
Please note that you should dive with the right position as to not get hurt.
Some of my friends who made the dive and made the wrong landing in the water, got their body aching.
5th Spot – Sand bar
Another stop of the island hopping is the Samal sandbar. It is a lovely sandbar that you can get into if the water is low tide.
So, depending on time, your boat may take this stop or not.
6th Stop – Wishing Island
Our last stop was the Wishing Island. It is a small island where you can climb into and have your wish.
There is also a statue of Mama Mary where you can say a prayer.
The surrounding vista of this Wishing Island is just amazing and awesome.
Sightseeing at Pearl Farm and Malipano Island
Another highlight of this tour is the sightseeing of the popular Pearl Farm Resort and Malipano Island.
This is a luxurious resort that offers one of the best services in Samal Island.
You will get to see the lovely Stilt houses called Samal houses that are built on seawater. You will also get a view of their pavillion and that distinct white sand in the resort.
Getting around Malipano Island gives you a glimpse of the lovely villas by the sea at this lovely island.
Food
Food is one of the most important factors that contribute to a fun and memorable island hopping experience.
As mentioned, part of the tour package, we were served with a hearty breakfast. There is a provision for hot water and coffee to help ourselves if we wanted coffee while on board in the morning.
We were also served with bread and egg, biko with sliced mango, and puto.
Lunch consist of delectable, Filipino favorites. Lechon was served together with tuna panga, kinilaw, guso salad, grilled chicken, seafood boil and shells.
Afternoon snacking consist of cassave cake, ube cake and other sweets.
Best Time for Samal Island Hopping
The best time to go island hopping in Samal Island is during the summer months in the Philippines. That is from March to June when there is not much rain on the island.
Conclusion
Samal island Hopping is so fun and memorable. It gives you lots of places to explore in just one go.
The staff are also approachable and accommodating.
This tour is so worth it.
Other Tourist Spots that May Interest You
Kapatagan Digos Tourist Attractions
Maragusan Tourist Spots that are Instagram Worthy