This is a list of the 30 top things to do and best places to visit in Alabama, a lovely state known for its southern hospitality, beautiful beaches and of course, football.
Our first 10 list consist of popular and lovely places to visit with admission fee.
With Admission Fee
1. US Space and Rocket Center
Address: 1 Tranquility Base, Huntsville, AL 35805, United States
Us Space and Rocket Center is the number one tourist attraction in Alabama according to its tourism department.
Huntsville is home to Alabama's top tourist gem where you can explore the history of space exploration.
It has an extensive collection of rocket space mementos and memorabilia. It also showcases 1,500 items relating to US Space Program such as rockets, engines, space crafts and other artifacts.
There are plenty of things to explore and do and one of the awesome experiences you will get is to have a bird's eye view of its space camp.
2. USS Alabama Battleship Memorial Park
Address: 2703 Battleship Parkway | Mobile, AL 36602
Located in Mobile Bay, Alabama, USS Alabama Battleship Memorial Park is a military museum and park where you can take a tour of the USS Alabama Battleship, USS DRUM Submarine, and the Medal of Honor Aircraft Pavilion.
Moreover, you can see a lot of memorials from the various wars and campaigns, from the various well-laid out impressive guns to the different decks of the war ships.
However, get ready with a lot of climbing from stairs when you explore the many levels of the ship.
If you have an extra time, you can explore the recreation area and do picnicking, fishing and explore its grounds.
This place is indeed great fun for family visits. Don't forget to drop by when you are in town.
3. Robert Trent Jones Golf Trail
Address: Birmingham, AL, United States
The Robert Trent Golf Trail offer 26 stunning golf courses with 468 holes spread over 11 locations in Alabama.
This golf course is designed by Mr. Robert Trent Jones and has received various accolades for its quality and value.
The golf trails are designed, carved out of hills, valleys and marshland of Alabama.
It is great for both experienced and beginner golfers.
4. Birmingham Zoo
Address: 2630 Cahaba Rd, Birmingham, AL 35223, United States
Birmingham Zoo is a great place to visit for families anytime of the year.
It houses approximately 550 animals of 180 species from all over 6 continents, some of which are already endangered.
The zoo envisions itself to create a global community where all people value wildlife and wild places.
5. McWane Science Center
Address: 200 19th St N, Birmingham, AL 35203, United States
McWane Science Center is a great place to spark wonder and curiosity about the world through hands-on experience.
There are a lot of fun things to do in this museum and science center. You can explore lots of exhibits and touch real animals.
The McWane Imax Dome Theater gives you a great cinematic experience. This place is perfect for any ages.
6. Point Mallard Park
Address: 2901 Point Mallard Dr SE, Decatur, AL 35601, United States
Point Mallard is a park located just 109 miles from Nashville. The park offers a year-round ice skating complex.
The aquatic center features an Olympic size diving pool, kiddie pool, water slides and wave pool that is great during the summer.
The 750-acre park has lots of fun activities to offer such as hiking, camping trails, biking trails and a golf course.
7. Huntsville Botanical Garden
Address: 4747 Bob Wallace Ave SW, Huntsville, AL 35805, United States
Huntsville Botanical Garden is a 118-acre botanical garden that has so much to offer to its visitors.
This botanical garden has lots to explore, from the butterfly house, scarecrow exhibit, and plenty of walking areas and a nice play area for the children.
You can do picnics too in the picnic area where tables are provided.
This place is very pretty and have gorgeous grounds, very well-kept. It is best to visit in late April to May when flowers are in full bloom.
8. Montgomery Zoo
Address: 2301 Coliseum Pkwy, Montgomery, AL 36110, United States
Montgomery Zoo is a sprawling 40-acre zoo that is home to over 500 animals from 5 different continents.
The place is clean and well-maintained. You can ride a train that goes around the zoo. They have a chairlift too that takes you over the zoo and enables visitors to have a closer look at the animals.
The animals in this zoo looked happy and healthy. If you are in the area, don't skip this lovely place for your kids and the whole family.
9. National Voting Rights Museum
Address:  6 US-80 East, Selma, AL 36701, United States
This museum is an important place to learn, get educated and appreciate the many sacrifices that were made so that people could exercise their right to vote.
A tour of this museum will give you a different perspective of the civil rights movement. It will give you an amazing and moving experience.
10. Early Works Museum
Address: 404 Madison St SE, Huntsville, AL 35801, United States
The Early Works Museum is great for toddlers and kids as it has plenty of interactive activities that they can enjoy.
This place makes you learn a lot about Alabama's history and its people. Your kids will surely have fun visiting this museum.
Free Attractions and Best Places to Visit in Alabama
Next set of 10 attractions and best places to visit in Alabama on our list are the free spots that are worthy of your time to explore.
11. Birmingham Botanical Gardens
Address: 2612 Lane Park Rd, Birmingham, AL 35223, United States
Birmingham Botanical Gardens is free admission and open to all, 365 days a year.
This botanical garden is well-maintained and has 20 different areas within the garden – Japanese garden, bamboo forest, bonsai collection, manicured garden, to name a few.
Enjoy walking in the pretty path leading to different parts of the garden.
12. Alabama State Capitol
Address: Montgomery, AL 36104, United States
This beautiful building of the Alabama State Capitol is rich in history. It served as the first capitol of the confederate states of America.
It is in this building where the 1965 Selma to Montgomery march ended.
Visiting this place is free and it is open from Monday to Friday.
13. Montgomery Museum of Fine Arts
Address: Montgomery's, 1 Museum Dr, Montgomery, AL 36117, United States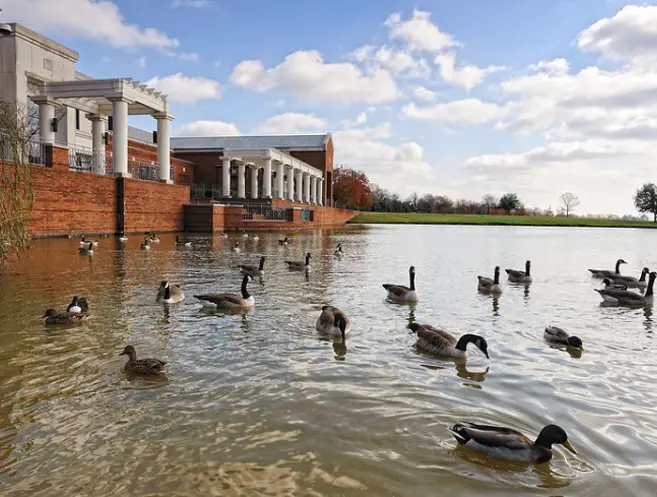 Montgomery Museum of Fine Arts houses over 4,000 collection of works of arts.
Most displays in this museum have notes and labels which enable visitors to appreciate more the artworks being displayed.
Some of the admirable works on display are Hopper, Sargent, Copley and Cassat. Admission to this museum is free.
14. Birmingham Museum of the Art
Address: 2000 Reverend Abraham Woods Jr Blvd, Birmingham, AL 35203
This museum has lots of arts display to see. It proudly presents the Southeast's finest collections and offers changing exhibitions.
Collections include about 24,000 paintings, prints, drawings, and decorative arts.
15. Sloss Furnaces National Historic Landmark
Address: 20 32nd St N, Birmingham, AL 35222, United States
Sloss furnace produced iron for over 90 years which propels progress in the City of Birmingham.
It operated as a pig iron-producing blast furnace from 1882-1971.
Now a museum of history and industry, you can see preserved buildings, pipes, machinery and industrial structures in this place.
16. Aldridge Gardens
Address:  3530 Lorna Rd, Hoover, AL 35216, United States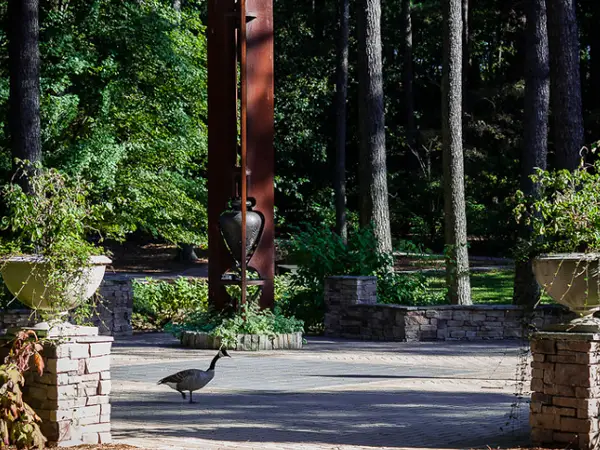 Aldridge Gardens is a 30-acre lovely public garden featuring beautiful woods and gardens surrounding a calm and peaceful 5-acre lake.
This garden is named after its owners, the Aldrige family- Eddie Aldridge and his wife Kay. Different types of plants, trees and flowers can be seen at this garden.
Access to the garden is free of charge.
17. Shrine of the Most Blessed Sacrament
Address: 3222 Co Rd 548, Hanceville, AL 35077, United States

This beautiful and serene shrine is a hidden gem, tucked away in the picturesque countryside of Northern Alabama.
It is a place of prayer, adoration and meditation.
The place welcomes people of all faiths and background. Groups, schools, individuals and families are welcome to visit the place.
18. Alabama Department of Archives & History
Address: 36130, 624 Washington Ave, Montgomery, AL 36104, United States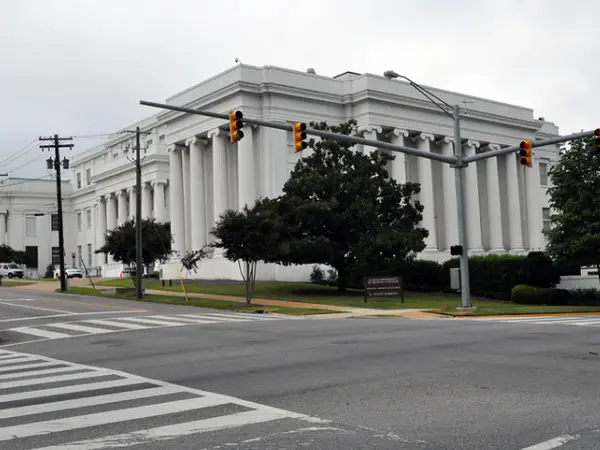 Alabama Department of Archives & History is the official repository of archival records in the State of Alabama.
It is the oldest, state-funded independent archival and historical agency.
19. Oakville Indian Mounds Education Center
Address: 1219 Co Rd 187, Danville, AL 35619, United States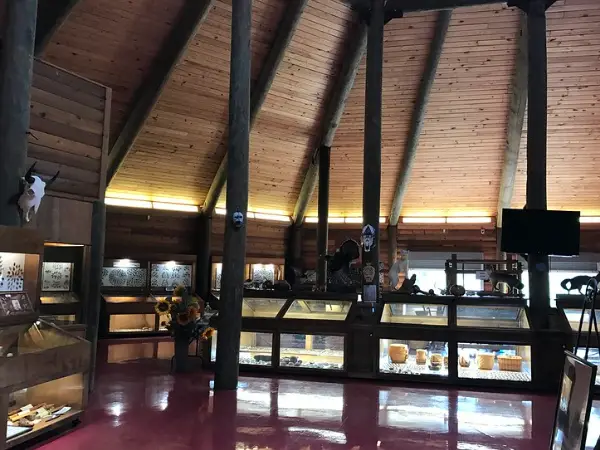 Oakville Indian Mounds Education Center is a museum and education center which preserved and interprets the Native American Mound complex.
It was built by people belonging to the Copena Mortuary Complex. They were associated with the larger Hopewell cultural group. The site is significant to Southeastern indigenous tribes who claim ancestral connection with those who built and occupied Alabama's ancient mounds.
Presently, the site preserves artifacts and ancient geological evidence of settlement in the region. It covers an 83-acre area and has a museum, picnic shelters, fishing pond and walking paths.

20. Jule Collins Smith Museum of Fine Art
Address: 901 S College St, Auburn, AL 36849, United States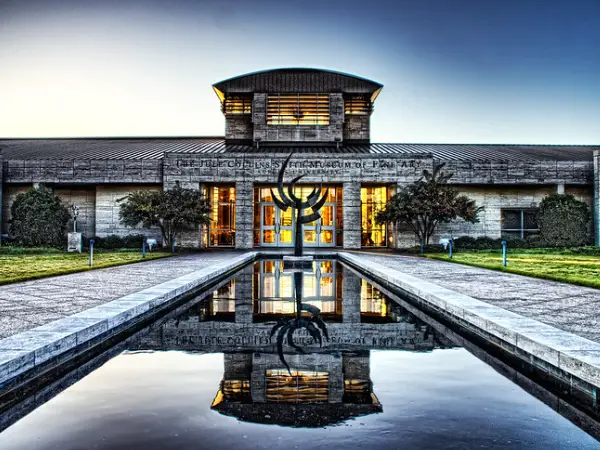 Jule Collins Smith Museum of Fine Art is an art museum that houses approximately 2,000 art works. The museum is located at the campus of Auburn University.
It is a nice place and has friendly staff. You can relax and view some exhibits in the area. You can enjoy watching the water feature and garden outside the museum.
Parks and Natural Destinations
Who does not love natural park destinations. This last set of our list are parks and natural destinations you can visit in the beautiful Alabama State in the United States.
21. Alabama Gulf Coast Beaches
Gulf Shores | Orange Beach | Fort Morgan | Dauphin Island
The Alabaman Gulf Cost Beaches are the best beaches in Alabama State.
These beaches are popular all over the south. And it is for a reason.
It is relatively inexpensive and a nice family-friendly beach destination. You can enjoy basking under the sun and take a dip in its turquoise waters.
Other than that, you can do other activities in the area like eating out, jet skiing and parasailing.
22. Gulf State Park
Gulf Shores
Gulf State Park in Alabama is approximately 6,500 acres and features 28 miles of trails and 9 different ecosystems.
There are so many things you can do in the area and if you are not done yet on a single day visit, you can definitely extend as there are lodging houses you can stay for accomodations.
Some of the activities you can do are hiking, fishing, biking, camping, birding, swimming, to name a few. You can also learn through the Learning Campus.
Gulf State Park embodies best practices of outdoor recreation and hospitable accommodation.

23. Wheeler National Wildlife Refuge
Address: 3121 Visitor Center Road, Decatur, AL 35603, United States
Wheeler National Wildlife Refuge is a 35,000 acre place established as a wintering habitat for migratory birds, ducks, geese and waterfowls.
There are trails which you can follow for walking about the refuge. However, the visitor observatory as the moment is temporarily closed as it is undergoing renovations.
24. Oak Mountain State Park
Address: 200 Terrace Dr, Pelham, AL 35124, United States


Oak Mountain State Park is a publicly owned recreation park where you can do numerous outdoor fun activities.
This 11,632 acre park is Alabama's largest state park.
The most popular activities on the park are mountain biking and hiking.
Other features of the park include pump track and BMX course, flipside watersports, cable skiing, basketball courts, boat rental, beach and swimming area, fishing lakes and horseback riding facilities.
Oh, the tree top nature trail at Oak Mountain State Park is awesome.
25. Railroad Park Birmingham
 Address: 1600 1st Ave S, Birmingham, AL 35233, United States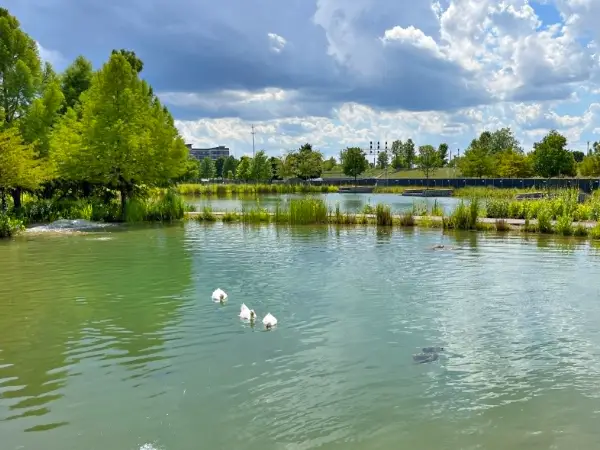 Railroad Park Birmingham is a 19-acre park located in Birmingham, Alabama.
It is a nice place for walking and chilling as it is a clean and green park.
Moreover, you can do lots of activities at this park as it has numerous features such as water features, walking trails, outdoor gym equipment and play areas.

26. Tannehill Ironworks Historical State Park
Address: 12632 Confederate Pkwy, McCalla, AL 35111, United States
Tannehill Ironworks Historical State Park is a nice place to appreciate the ironworks industry in the olden times in Alabama. Presently, it is a great place where you can do a number of activities.
You can do camping in the area. You can also do picnic, biking and swimming at this park.
27. Eufaula National Wildlife Refuge
Address: 343 AL-165, Eufaula, AL 36027, United States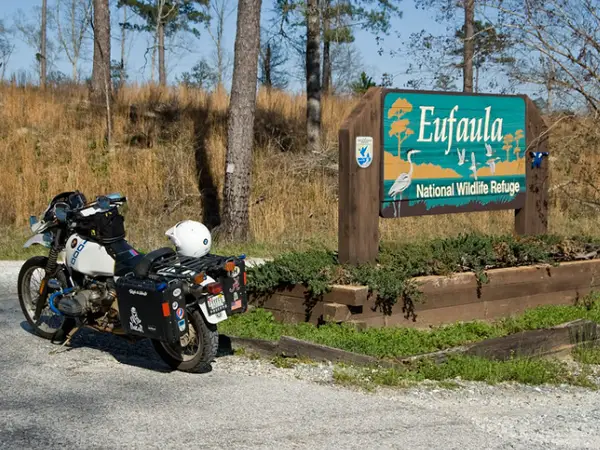 Located in Southeastern Alabama, Eufaula National Wildlife Refuge was established to provide refuge for wintering waterfowl and other migratory wildlife.
This is a nice, peaceful place.
You can explore the place and you will see various wildlife depending on season.
You can do fun activities at the place like hiking, birding, boating, biking, auto tour, and fishing.
28. Lake Guntersville State Park
Address: 1155 Lodge Dr. Guntersville, AL 35976

Lake Gunsterville State Park is a publicly owned leisure and recreation area. It is a 6,000 acre park where you can enjoy various fun activities.
Some of the things you can do at the park are the 18-hole championship golf course, screaming eagle zipline, beach complex, fishing, biking and hiking.
It also offers facilities like restaurants, chalets, lodge and camper vans.
29. Joe Wheeler State Park
Address: 4401 McLean Drive Rogersville, AL 35652-2916
Joe Wheeler State Park offers recreation activities for everyone. Located along the Wheeler Lake, this park offers a stunning waterfront lodge, marina with boat slips, camping and cottages.
Things you can do at Wheeler State Park are swimming, boating, fishing, camping, to name a few.
30. Little River Canyon National Preserve

Address: L4322 Little River Trail #100, Fort Payne, AL 35967, United States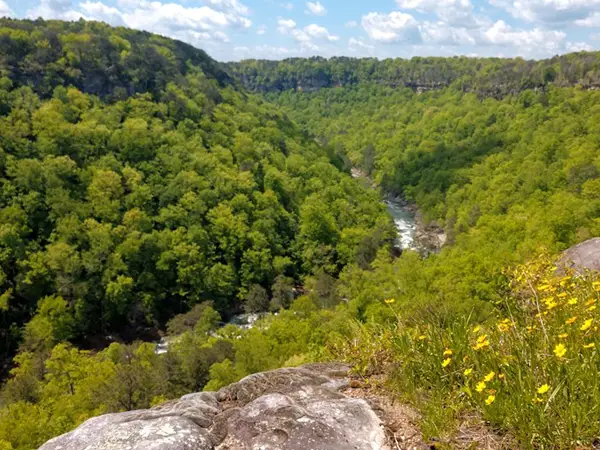 Little River Canyon National Preserve is a great place for hiking, with its lovely waterfalls and awesome canyon rim views.
If you love nature, natural beauty and off-beaten paths, peace and calm, visit this place.
---
30 Top Things to Do and Best Places to Visit in Alabama (Summary)
1. US Space and Rocket Center
2. USS Alabama Battleship Memorial Park
3. Robert Trent Jones Golf Trail
4. Birmingham Zoo
5. McWane Science Center
6. Point Mallard Park
7. Huntsville Botanical Garden
8. Montgomery Zoo
9. National Voting Rights Museum
10. Early Works Museum
11. Birmingham Botanical Gardens
12. Alabama State Capitol
13. Montgomery Museum of Fine Arts
14. Birmingham Museum of the Art
15. Sloss Furnaces National Historic Landmark
16. Aldridge Gardens
17. Shrine of the Most Blessed Sacrament
18. Alabama Department of Archives & History
19. Oakville Indian Mounds Education Center
20. Jule Collins Smith Museum of Fine Art
21. Alabama Gulf Coast Beaches
22. Gulf State Park
23. Wheeler National Wildlife Refuge
24. Oak Mountain State Park
25. Railroad Park Birmingham
26. Tannehill Ironworks Historical State Park
27. Eufaula National Wildlife Refuge
28. Lake Guntersville State Park
29. Joe Wheeler State Park
30. Little River Canyon National Preserve