Welcome to our Poppy Playtime Coloring Page!
Poppy playtime is a multiplayer horror game developed by MOB entertainment. The goal of the game is to stay alive in the horror and puzzle adventure.
The video game has various chapters and it is available in both ios and android.
The most notable characters of the game are Huggy Wuggy, Mommy Long Legs, PJ Pug-a-Pillar, Candy Cat, Boogie Bot, Kissy Missy, Bron the Dinosaur, Bunzo Bunny and Cat-Bee.
We are glad to publish this Poppy Playtime coloring pages that include Huggy Wuggy coloring page, Mommy Long Legs coloring Page and others.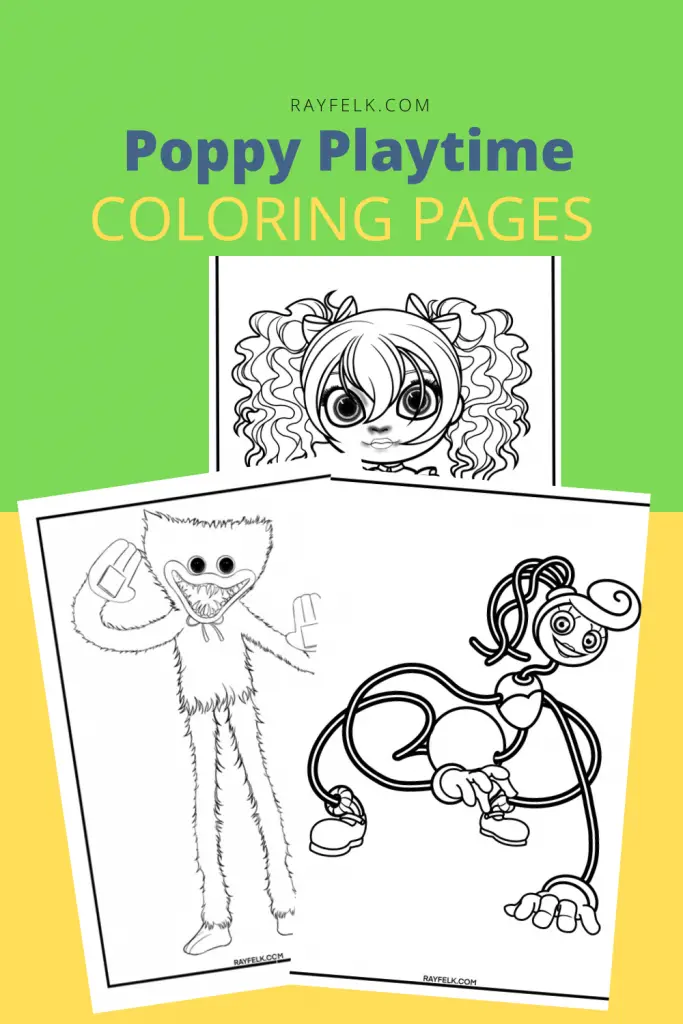 Poppy Playtime Coloring Pages
Check out this Poppy Playtime coloring page that includes its various characters. Have fun coloring!
1.Poppy Playtime Mommy Long Legs Coloring Page
Mommy Long Legs is the one you will tackle in Poppy Playtime chapter 2.
She is a large, slender creature and has spaghetti-like hair strands. She is one of the major villains of the game. She is a pink murderous and stretchable toy that you will have to tackle in the entire chapter 2 of the Poppy Playtime game.
If you like her, you can download, print and color this Mommy Long legs printable coloring page for free. Get coloring it now!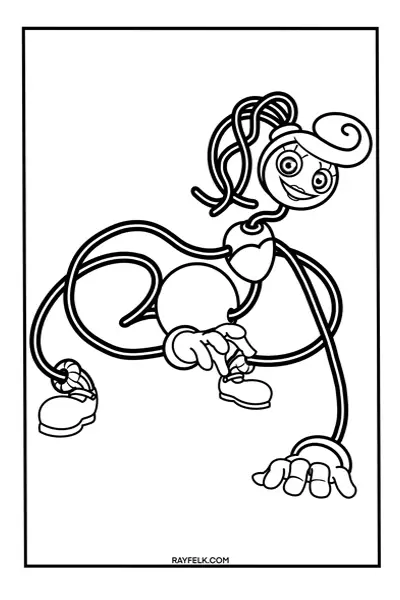 2. Poppy doll Coloring Page
Poppy Doll is a petite doll with chalk-white skin, rosy cheeks. Her hair is curly and tied into a double pig-tail.
Poppy is presented to be bubbly, caring personality. However, at the end of chapter 2, her personality turned into a dark one, asking creepy questions from the player.
We are giving you this free Poppy Doll coloring page to print and color. Color it now!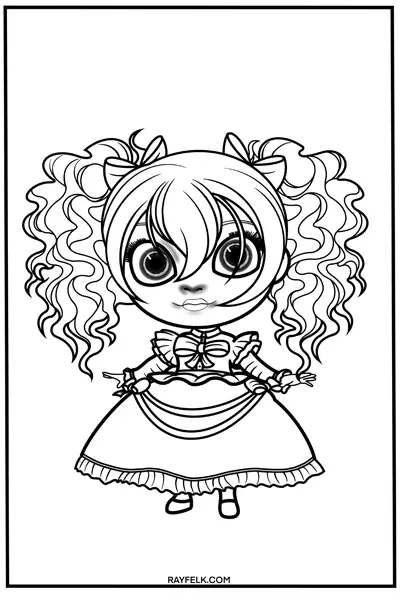 3. Huggy Wuggy Coloring Page
Huggy Wuggy is the main villain of the Poppy Playtime chapter 1 game. He is the mascot of Poppy playtime that is why he is very popular.
Huggy Wuggy is a tall, slender creature covered in a blue fur. He is portrayed to be welcoming and warm and loves to hug everyone. However, his monster counterpart is a murderous creature, killing anyone he encounters.
This is a free Huggy Wuggy coloring sheet PDF that you are free to print and color. Have fun coloring Huggy Wuggy!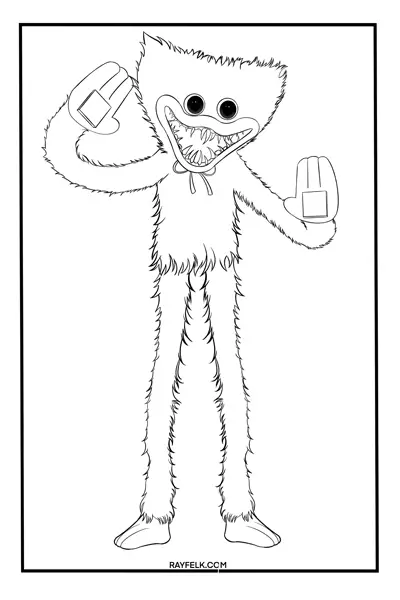 4. Kissy Missy coloring Page
Kissy Missy looks similar with Huggy Wuggy but female version. She has a thick fur but dyed color pink.
Kissy Missy's purpose is to kiss children. She is sweet and helpful towards the player.
This scute Kissy Missy coloring page is fun to color. Color it the way Kissy Missy looks!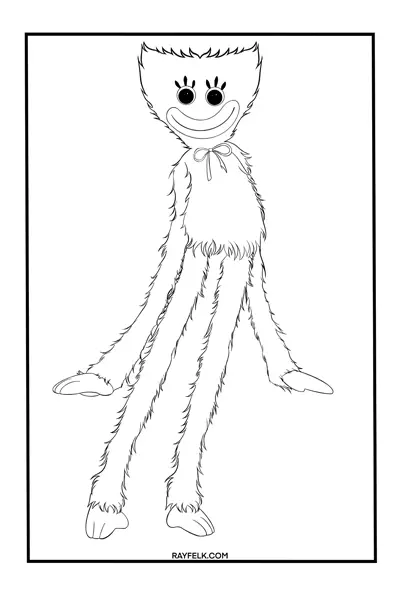 5. PJ Pug-A-Pillar Coloring Page
PJ Pug-a-Pillar is a long creature that is a mix of pug and caterpillar, hence the name. He has a fluffy body.
PJ Pug-a-Pillar follows the player, jump cares and kills him if he is able to reach him which resets the game. But PJ will not kill the player if they swing while hanging on to the rings or simply looking around the room.
Check out this free PJ Pug-A-Pillar coloring page and have fun coloring.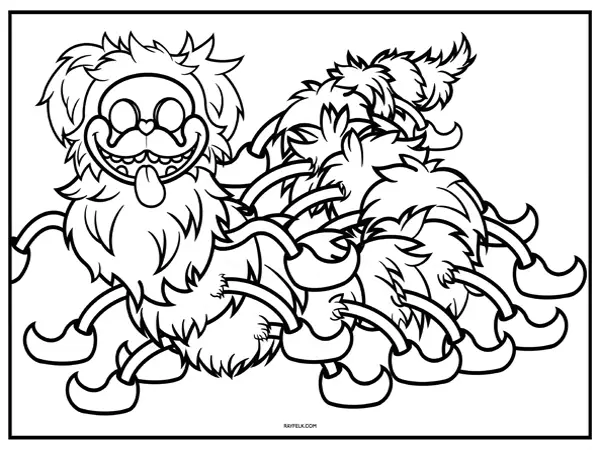 6. Bunzo Bunny Coloring Page
Bunzo Bunny is anthropomorphic yellow rabbit with black eyes and large teeth and has two long yellow ears.
Buzo Bunny is very cheerful and playful. He knows the birthdays of the people and greets everyone.
The monstrous Bunzo Bunny however, takes a dark side and twisted persona. He delights when the player fails the game.
This is a free Bunzo Bunny coloring page and enjoy coloring it.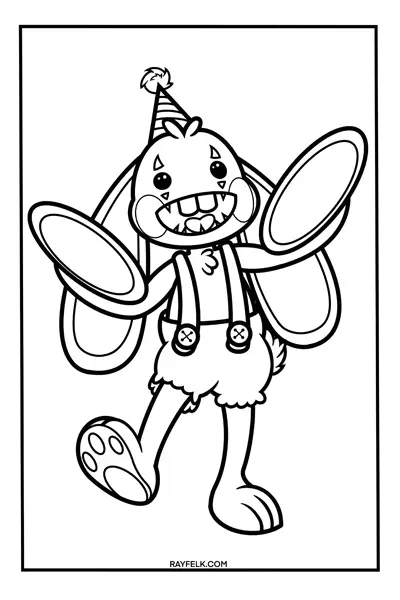 7.Mini Huggies coloring Page
The Huggy Buddies known as the Mini Huggies are the minor antagonist of the game. They are long legged and comes in different colors of green, blue and red.
Get coloring this free picture to print and color of Mini Huggies.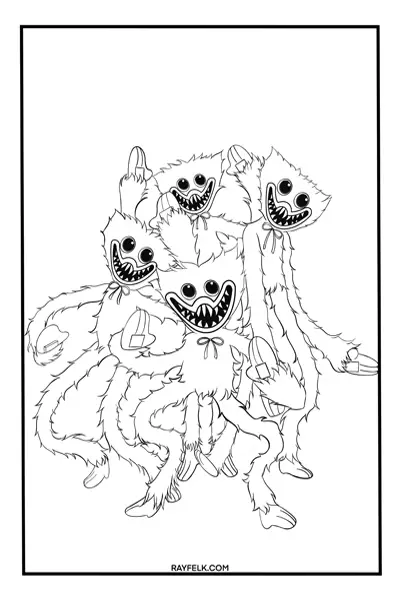 8. Baby Long Legs coloring Page
Baby Long Legs appeared in a poster after the player escapes from PJ Pug-A-Pillar.
This cute Baby Long Legs coloring page is so adorable. Get coloring it now.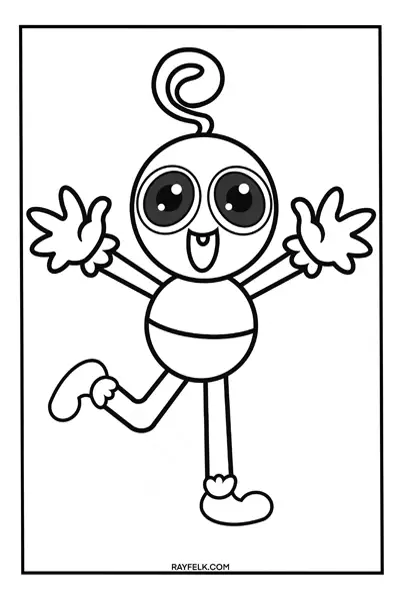 9.Daddy Long Legs Coloring Page
Daddy Long Legs appears in a poster together with Baby Long Legs. His appearance is similar to that of Mommy Long Legs, a male version and having a blue skin.
This is a Daddy Long Legs coloring page and you are free to download, print and color it. Have fun coloring!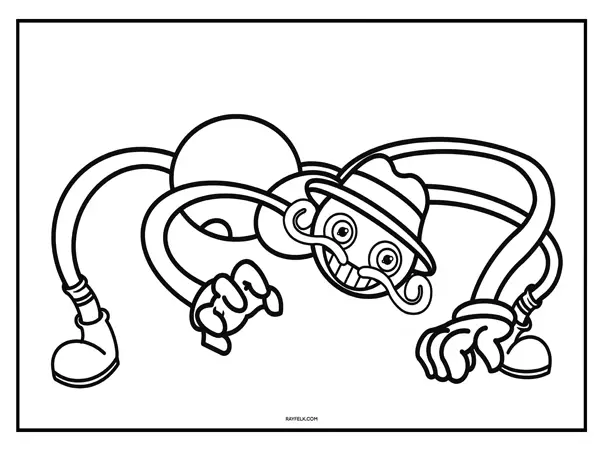 10. Long Legs Family Reunion Coloring Page
This is a reunion of the Long Legs family- Mommy Long Legs, Daddy Long Legs and of course, Baby Long Legs.
Enjoy and have fun coloring this free printable coloring page!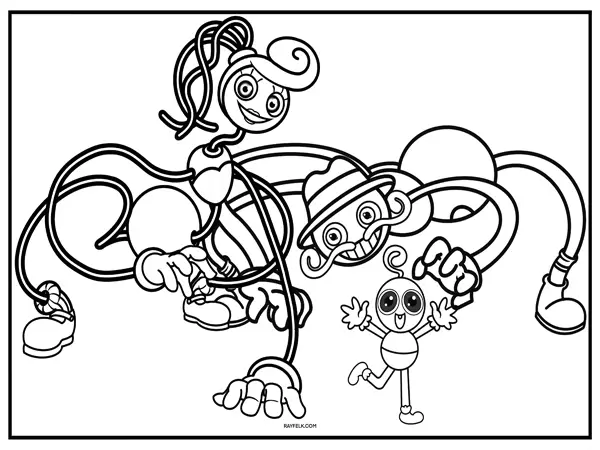 Other Coloring Pages You May Like