This is a fun red fruits word search that contains 15 words to look for in the puzzle.
Red fruits look yummy and gives you that anticipation that they are delicious.
We are sure you have your favorite red fruits especially if they are abundant and available to you in your local market and communities.
The various red fruits featured in this word search usually are abundant in summer..
Other fruits are exotic and grows in tropical climate like the dragon fruit.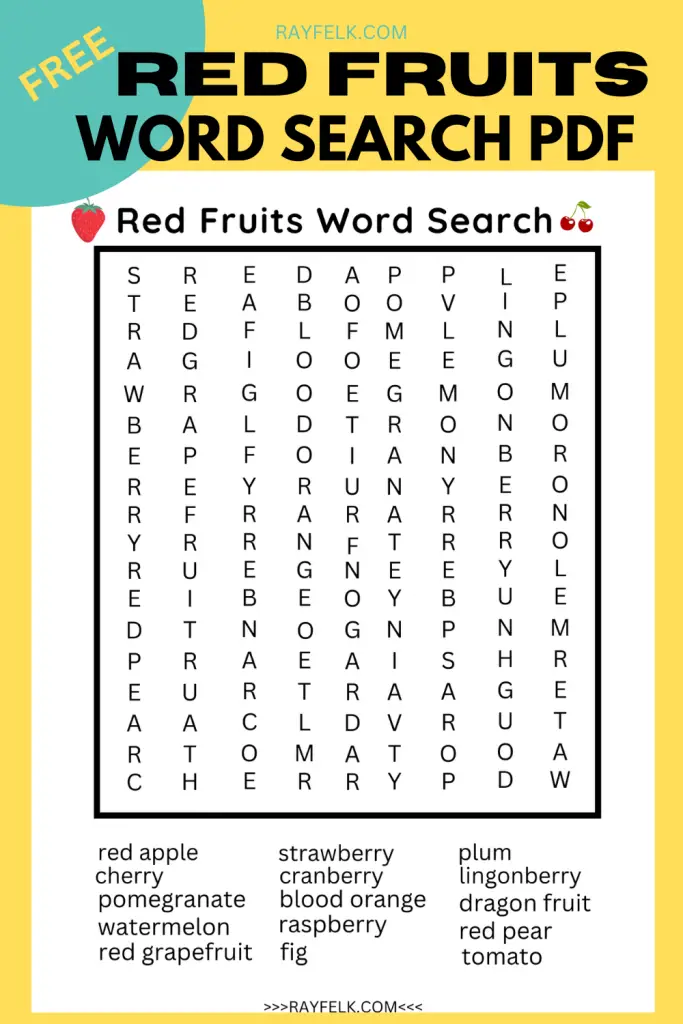 Why Word Search
Answering activity sheets like this word search sharpens the mind.
It is a great way to spend your down time.
This word search definitely gives a good exercise to your minds and broaden your knowledge and even vocabularies.
Words to Look for in this Word Search
red apple
cherry
pomegranate
watermelon
red grapefruit
strawberry
cranberry
blood orange
raspberry
fig
plum
lingonberry
dragon fruit
red pear
tomato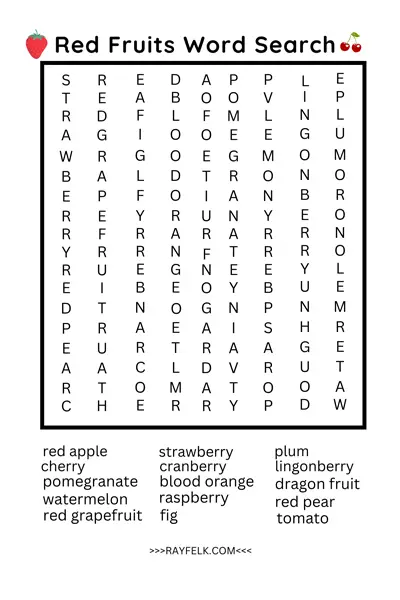 How to Answer this Word Search Puzzle
Check on the red fruits that you need to find in the puzzle. The word bank is listed below the word search sheet.
Look at the words in the puzzle. You can find them downwards, upwards, vertical and horizontal in the puzzle.
Once you have found the word, encircle them and you can put a mark on the words at the word bank for your own guidance on the words that you are done answering.
How to Download and Print this Free Red Fruits Word Search
Start with joining our community. Enter your name and email address on the fields provided above.
Then you can already download this free word search printable and save it to your computer.
It is now time to print the word search puzzle using your home computer and printer.
The good thing about this printable is that you can print them as much as you want and need.
You can even make it a contest among your friends or within your family.
Have fun!