This is an enjoyable and fun desserts word search that contains fifteen words to find.
The words you need to look for at this free desserts word search printable are enjoyed by different cultures and races all over the world.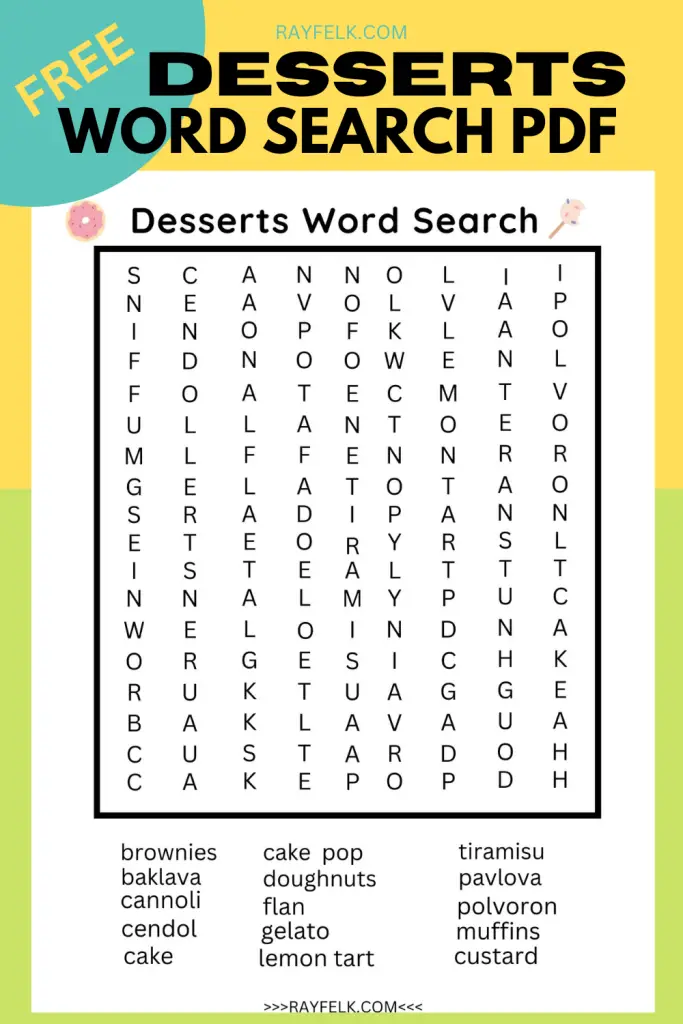 Word Search is a fun activity for children to adults and even seniors.
It will exercise your mind to be alert.
Looking for the words hastens your thinking power.
It will also make you become logical in finding the words that are in the puzzle.
The feeling of satisfaction and fulfillment once you find all the words in the puzzle is an awesome feeling.
Words to Look for in this Word Search
Here are the desserts that you will have to look for in this puzzle game printable:
brownies – they are baked chocolatey goodies that are in square or rectangular form. Depending on how they are made, brownies are often sweet, moist, fudgy and cakey.
baklava – it is a layered pastry made sweet with honey or syrup and popular in Middle Eastern countries including Greece and Turkey.
cannoli – are Italian pastry made of crisp shell filled with creamy and sweet filling.
cendol – an iced-Malaysia dessert.
cake – of any flavor of cake can be a dessert.
cake pop -are cake balls that are dipped in different flavors.
doughnuts – who does not love doughnuts? We love doughnuts whatever the flavor is.
flan – a popular dessert in Spain and Latin America.
gelato – Italian ice cream.
lemon tart – it is a pastry filled with lemon filling.
tiramisu – a creamy Italian dessert made with layers of coffee-soaked ladyfingers and mascarpone.
pavlova – named after Anna Pavlova, a Russian ballerina, pavlova is a merengue-based dessert popular in Australia and New Zealand.
polvoron – is a delicious dessert made with all-purpose flour, milk, sugar and can be infused with different flavors.
muffins -these are individually baked goodies placed in small holders.
custard – a decadent dessert made with eggs, milk and sugar.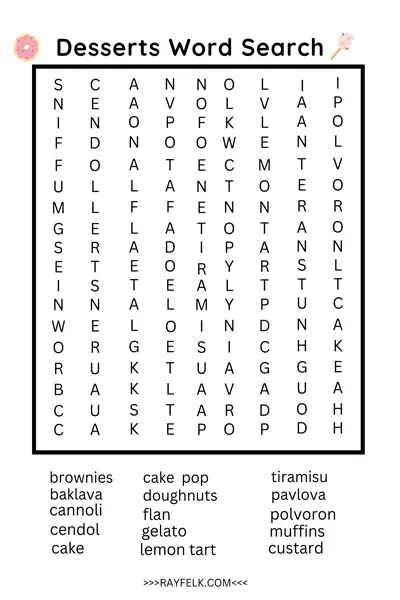 How to Answer this Word Search Puzzle
The word bank can be found at the bottom of the word puzzle sheet.
You can find the words downwards, upwards, backwards, horizontally and vertically.
There is also a handy answer key for your easy reference when checking the answers.
How to Print
First, join our community to be able to download the free desserts word search puzzle.
Just enter your name and email in the fields provided above.
Then you can now print the puzzle game in your home computer and printer.